Features
Articles that are feature stories.
Submitted by jghoughtaling on December 1, 2012 - 12:54
When Syracuse Crunch coach Jon Cooper looked at his defense at the beginning of the season, he saw seven players and a question mark.
Dmitry Korobov, set to play his first season in North America, was up against more than smaller ice surfaces and more physical play. The Belarusian had to deal with a language barrier, and due to the ongoing lockout, NHL-level competition – not only from the opposition, but to crack the Crunch lineup.
"We didn't know what Dmitry was, and when we're fully healthy with the eight guys, I don't know if you can sit here and say who's one through eight," Cooper said. "We have a bunch of ones in their own way."
Submitted by pete on November 21, 2012 - 21:03
We're now almost two months deep into the second NHL lockout in less than a decade. As difficult as it is to remember, though, hockey goes on. It goes on in small junior rinks in Canada and on campuses throughout the U.S. It goes on in the sporting halls of Sweden and Russia. And, it goes on in Syracuse, New York, where players on the cusp of making the highest level of hockey in the world patiently await the mere chance to make their case to play in the NHL. For those players, and in spite the cynical greed of the NHL's business wing, Bolt Prospects presents its 2012-2013 Preliminary Rankings.
We delayed the release of the rankings a few weeks when optimism ran high that hockey would be back after Thanksgiving, believing that perhaps an NHL training camp was in the cards for some of our prospects. But with the breakdown of talks between the commissioner and the NHLPA, it looks like a Lightning camp is far from imminent. So, we press forward, in spite of the setback.
Submitted by jghoughtaling on November 20, 2012 - 08:12
It was one smooth motion that brought the crowd to its feet.
On the doorstep of the Adirondack Phantoms crease, Richard Panik snatched the puck out of the air, set it down, and tapped the puck into the net, providing the Syracuse Crunch with a 5-0 second period lead at the Onondaga County War Memorial Saturday.
The effortless looking play was all instinct for Panik.
"The game is going so quick and fast, so you don't have time to think about anything," he said.
Submitted by jghoughtaling on November 14, 2012 - 18:01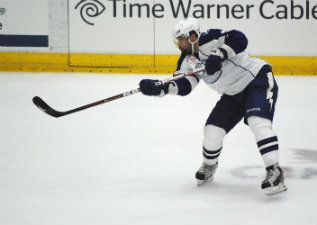 By Jeremy Houghtaling

Growing up, Radko Gudas modeled his game after two players.
The first, his father Leo, represented his country in multiple world championships and won the bronze medal for Czechoslovakia in the 1992 Olympics.
"I learned how he played, and that's how I play," Gudas said. "He was a really hard hitter, he had a good shot – a really good defenseman."
North American hockey fans are more familiar with the second player – longtime NHLer Scott Stevens, a fearsome defenseman with the most penalty minutes of any player enshrined in the Hall of Fame.
Submitted by mike on November 13, 2012 - 19:58
Elitserien (Sweden)
Brynas 4 @ Linkopings 1
Johan Harju, Brynas, 0-1-1, +1, 0 PIM, 2 SOG
Season totals: 21 GP, 7-4-11, +1, 29 PIM
Bolstered by Andreas Thuresson's two goals and and Robin Rahm's steady performance (28 total saves) in net, Brynas leapfrogged Linkopings in the standings with a decisive road victory. Johan Harju had the primary assist on what proved to be the game-winning goal by Sebastian Enterfeldt with just over three minutes remaining in the first. Harju now has points (2 goals, 2 assists) in three of his last four Elitserien games dating back to October 30th. Calle Jarnkrok, selected in the 2nd round of the 2010 NHL entry draft by Detroit, hit the stat sheet with two assists. Late in the second period, Simon Hjalmarsson managed the lone score for Linkopings, which sent plenty of rubber (23 shots) Rahm's way over the middle and final frame but could not get the score any closer. Up next for Brynas (9-6-3-3, 36 PTS) is a showdown with league-leading HV 71, (12-4-3-1, 43 PTS), which has won the last three matches between the two clubs, on Thursday.
Submitted by chad on November 7, 2012 - 14:33
JT Brown was just getting his feet wet in the National Hockey League.
In the final game of the 2011-12 regular season – his fifth game since the free agent collegian chose the Tampa Bay Lightning – the highly sought-after prospect registered an assist for his first professional point.
But more importantly, the short time in Tampa gave Brown a taste of the NHL lifestyle, the speed of the game, and the coaching systems.
Submitted by jghoughtaling on November 2, 2012 - 17:00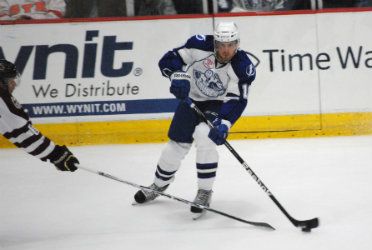 By Jeremy Houghtaling

Alex Killorn certainly doesn't seem like a rookie.
With nearly as many playoff games as regular season, the 6-foot-1, 201-pounder is quietly piling up points like a veteran.
Registering six points over his first seven games in his first full professional season with the Syracuse Crunch, Killorn is improving on the impressive pace he set during his first taste of pro hockey last spring.
"When he came in, the game slowed down for him right away, within a couple of games," Crunch head coach Jon Cooper said. "You look at some of our other rookies…It took those guys a little bit more time."
Submitted by jghoughtaling on October 23, 2012 - 11:32

By Jeremy Houghtaling

As far as Mark Barberio is concerned, this season started with a clean slate.
Four months ago the 22-year-old, in his second professional season, hoisted the Calder Cup with the Norfolk Admirals and was named the winner of the Eddie Shore Award as the American Hockey League's top defenseman – and he's the first to point out those accomplishments are in the past tense.
"It was one season, and I'm not going to sit on that season and say 'Yeah, I had a good year,'" Barberio said. "That's all great, but there's a new season now and it's time to get back at it and win hockey games again."
Last season, Barberio notched 61 points in 74 regular season games and followed with nine points in 18 playoff contests. Now the Syracuse Crunch power play quarterback, it took Barberio a little more than five minutes to find the back of the net in the season opener in Rochester.
Submitted by jghoughtaling on October 17, 2012 - 13:09

By Jeremy Houghtaling
When Ondrej Palat was first drafted as a 19-year-old, the Tampa Bay Lightning weren't sure if he could immediately challenge for a spot in the American Hockey League.
The Czech winger, taken in the seventh round in 2011, didn't waste time showing he was ready to make the jump to professional hockey, earning a contract less than a month into the 2011-12 season.
Now, after posting 39 points in his initial AHL campaign with the Norfolk Admirals and winning a Calder Cup, Palat is settling into his role on one of the Syracuse Crunch's top lines.
Submitted by chad on October 12, 2012 - 15:03
At 22 years old, Tyler Johnson already has a tough time picking out the biggest accomplishment of his young career.
Success seems to follow the Syracuse Crunch center, who won the Memorial Cup in his first junior season, won a gold medal at the World Junior Championships, and hoisted the Calder Cup last year in his rookie professional season.
"Each specific trophy has great memories, and holds a different piece of my heart," Johnson said.