Features
Articles that are feature stories.
Submitted by pete on June 30, 2013 - 14:42
Name: Jonathan Drouin
Position: Left Wing
Height: 5'10"
Weight: 186 lbs
Club: Halifax (QMJHL)
Tampa Bay elects to forego selecting perhaps the best need pick in favor of the player who might be the best prospect in this draft in slick winger Jonathan Drouin out of Halifax. Drouin starred on a line with top overall pick Nathan MacKinnon as Halifax swarmed to QMJHL and Memorial Cup titles.
Strengths:
Drouin mixes some of the best hockey sense and passing ability to be seen in the draft in quite some time with world class stickhandling ability and lateral quickness and skating. He truly appears to have the puck tied to the blade of his stick with a string. Add to that a solid shot and you have a player who is equally adept at shooting, passing, or making you look foolish by carrying it past you in the offensive third. As an added intangible, Drouin might also be one of the fiercest competitors in the draft, and while he may not be a bone cruncher he will go to the high traffic areas to make plays.
Weaknesses:
Drouin is not the ideal NHL size and he doesn't have a top level gear in terms of straight line speed. Those knocks should be tempered by saying he does have excellent lower body strength and really just needs to get his upper body strength to the same point, and his straight line speed may be compensated for by his lateral agility and advanced ability to read the play. Also, like many young forwards, he needs to continue to work on his play in the defensive third.
Projection:
Top Line Left Winger and Top-20 NHL Scorer
Comparisons:
Names That Have Been Floated: Patrick Kane, Claude Giroux, Martin St. Louis, Denis Savard, Gilbert Perrault
Submitted by jghoughtaling on June 7, 2013 - 19:05
For the Syracuse Crunch, it's all about setting the tempo.
With the Grand Rapids Griffins visiting the Onondaga County War Memorial for Games 1 and 2 of the Calder Cup Finals Saturday and Sunday, the Crunch are focused on their own play more than the Griffins' talented forwards.
"What we really have to focus on isn't what they're going to bring at us," said Syracuse defensemen Jean-Philippe Cote. "We've got to set the tone, and play as high-tempo as we can."
"We don't want them to dictate the pace of play…We don't want them to play their game; we want them to play our game," said Crunch forward JT Wyman.
That game plan has worked for Syracuse.
After sweeping the Portland Pirates in the first round and the Springfield Falcons in the second, the Crunch topped the Wilkes-Barre/Scranton Penguins in five games. Ondrej Palat is tied for the league lead in postseason points (20), and Tyler Johnson, the league's most valuable player, is just three points behind.
Submitted by jghoughtaling on June 7, 2013 - 09:46
Despite being a former first-round draft pick, Philippe Paradis isn't known for his scoring touch.
The Syracuse Crunch grinder was held without a point in his first 11 games of the Calder Cup playoffs as he was more focused on finishing his checks to soften up the opposition's defense.
With a chance to eliminate the Wilkes-Barre/Scranton Penguins last Saturday, Paradis finally broke through to the scoresheet in a big way. The Quebec native scored three times in a 7-0 rout, and the Crunch finished off the Penguins in Game 5 of the Eastern Conference Finals.
"I was just trying to get the first one," Paradis said. "The game was tight; that one was more important than the other ones. I just put the puck on the net and ended up scoring."
While Syracuse's Ondrej Palat is tied for the postseason points lead with 20 points, and the league's most valuable player, Tyler Johnson, is three points behind, the Crunch's depth players -- the shutdown line and crash and bang guys -- have chipped in with some of the more crucial goals.
With Syracuse hosting the Grand Rapids Griffins in Game 1 of the Calder Cup Finals Saturday, the Crunch are hoping to continue receiving offensive output from each player.
Submitted by jghoughtaling on June 6, 2013 - 08:50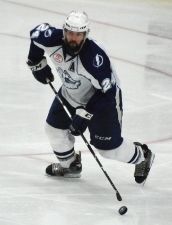 For Jean-Philippe Cote, leadership begins off the ice.
The Syracuse Crunch defenseman knows that although he needs to use his play as an example for the younger players on his team, there is another element to wearing a letter on his sweater. Cote believes getting the best out of each player begins with making them feel comfortable.
"I like when a guy like (rookie defenseman) Andrej Sustr comes to me like 'Is there anything I can do to be a better player?'" Cote said. "I love it. I like discussing hockey with those younger guys. But to get someone on the team, that happens outside the ice."
Like last year on the Calder Cup-winning Norfolk Admirals, the leadership of captain Mike Angelidis and alternate captains Cote Mark Barberio -- among many others -- has pushed the Syracuse Crunch into the American Hockey League finals.
Submitted by jghoughtaling on June 5, 2013 - 00:34
JT Brown may be a rookie on a line with a pair of veterans, but he certainly doesn't look out of place.
Twelve games into his first Calder Cup run, the Syracuse Crunch forward has been counted on to provide timely goals and tough defense that wears down the opposition's top line. Flanked by JT Wyman and Mike Angelidis, Brown is learning from two guys with plenty of postseason experience.
"You don't have to do too much, they're always doing what they're supposed to," Brown said after practice Tuesday. Syracuse hosts Game 1 of the Calder Cup Finals Saturday. "They're vets and they know what needs to be done."
Angelidis, the Crunch's captain who hoisted the cup with the Norfolk Admirals last season, has been impressed by Brown's effort every night.
"He's a fast learner," Angelidis said. "And we're learning things from him too. He's got a good head on his shoulders and he works hard."
Submitted by mike on June 3, 2013 - 11:12
Vincent Lecavalier's tenure with the club that drafted him first overall in 1998 has been a stretch of lean and occasionally tumultuous seasons interrupted by a cluster of four consecutive postseason appearances that included a Cup and, several years later, another deep playoff run. Though the Lightning's first bona fide superstar and despite widespread admiration for his efforts on and off the ice, Lecavalier has been dogged (see Exhibits A , B, C, D and E) at various junctures of his professional career by speculation that he is or should be destined for some other hockey market.
He came close.
Lecavalier was nearly traded on three known occasions: first, to Toronto in late 2001 after bristling under the tutelage of temperamental coaching newcomer John Tortorella (cooler heads prevailed), then, in 2006, Lightning GM Jay Feaster shopped Lecavalier to Vancouver for goaltender Roberto Luongo, and finally, in 2009, Canadiens and Lightning brass established parameters for a deal that was never consummated.
Knowledge of these episodes has no doubt kept the prospect of his departure from the Lightning simmering, but it's the succession of injuries and diminished production following an 11-year, $85 million extension signed in 2008 as well as the arrival and rapid emergence of new No. 1 center Steven Stamkos that have really stoked the flames of conjecture. What was once a confluence of impassioned, covetous rumor-mongering that served as a grim specter for those concerned with the state of the Lightning has become a discussion steeped in practicality for fans and pundits alike.
Submitted by jghoughtaling on May 24, 2013 - 13:51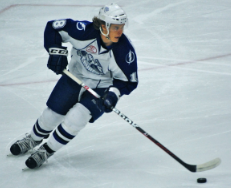 By Jeremy Houghtaling

Vladislav Namestnikov dipped his shoulder, turned the corner on the defenseman and drove right to the net.
The Crunch forward plowed through Springfield Falcons goalie Curtis McElhinney, creating a rebound for Mark Barberio to bury less than a second later to give Syracuse a two-goal lead in the fourth game of the Eastern Conference Semifinals last week. It was Namestnikov's first of two assists on the night, his first professional postseason points.
"Not a lot of players make that play," said Syracuse coach Rob Zettler. "A lot of players go behind the net instead of going to the front of the net. He's got the courage and the speed to make those plays."
For Zettler, it's just one example of the recent development in Namestnikov's game.
"Over the last two or three weeks, his play has really elevated," Zettler said of the 20-year-old. "He's really skating well, he's battling for pucks and going to the hard areas."
Submitted by chad on May 21, 2013 - 16:04
For a 30-goal scorer, Brett Connolly is essentially flying below the radar.
Overshadowed by the success of the Syracuse Crunch's top line, Connolly has quietly continued his nearly one point per game pace in the Calder Cup Playoffs. He has five points in seven postseason games, having already notched 31 goals and 32 assists in 71 games in the regular season.
Submitted by chad on May 15, 2013 - 15:40
We continue our Prospect of the Week award, an honor (virtually) given to one Tampa Bay Lightning prospect for their recent contributions on and off the ice.
The Prospect of the Week for April 25 is … Syracuse's Top Gun line (AHL – USA).
Tyler Johnson is sharing the wealth.
Johnson had a hat trick and seven total points (2 GP, 4-3-7) last week as the Crunch came off a week-long break with two wins over Springfield in Massachusetts. Syracuse holds a 2-0 series lead on the Falcons entering Wednesday's Game 3 of the Eastern Conference Semi-finals.
Johnson has won our Prospect of the Week three times in the last six weeks and we're running out of ways to say he's good at the hockey, so we're giving the award to his line, made up of Johnson, Ondrej Palat, and Richard Panik. The line was recently named the Top Gun line, though it has also been called the PTPer (Prime Time Players via Dick Vitale). Regardless of what people are calling it, the line is on fire.
Submitted by jghoughtaling on May 13, 2013 - 11:38
Stacy Roest sees something in Cedric Paquette.
Roest, a developmental coaches working with the Syracuse Crunch practice squad, knows the transition from the junior to professional ranks means a faster pace and stronger competition.
But Paquette, the Tampa Bay Lightning's 2012 fourth-rounder, has the drive.
"He's the ultimate competitor," Roest said of Paquette. "He's a really high compete kid. He has a really good shot. His skating has to come a ways, but he's a good player."