Features
Articles that are feature stories.
Submitted by chad on October 1, 2013 - 16:40
We continue our Prospect of the Week award, an honor (virtually) given to one Tampa Bay Lightning prospect for their recent contributions on and off the ice.
The Prospect of the Week for September 24, 2013 is … Andrey Vasilevskiy (Salavat Yulaev, KHL, Russia).
If Lightning General Manager Steve Yzerman wakes up in a cold sweat in the middle of the night worried about Tampa Bay's goaltending, there's probably a framed photo of Andrey Vasilevskiy on his nightstand calming him down.
Submitted by chad on September 28, 2013 - 12:02
Jean-Philippe Cote is not a household name.
The son of former Quebec Nordique Alain Cote, "J-P" has been with the Lightning organization for the past two seasons. A two-time Calder Cup winner, the defenseman is as much a reason for the Tampa Bay affiliate's Cup runs these last two years as more recognizable names like Tokarski, Desjardins, Gudas, Panik, Johnson, and Palat.
Cote is 31 years old. He's not a young prospect like Andrej Sustr or J. T. Brown in the early stages of their development. But Sustr and Brown don't come close to their talent ceilings without Cote and players like him.
"He's invaluable," Lightning coach Jon Cooper said last year when coaching Cote's Syracuse Crunch.
"He's a guy who's been around the block and has played a few games in the NHL," Cooper said. "He's seen it all and done it all. You can't have enough of those guys around."
Cooper has kept Cote around throughout the Lightning's training camp. The former Leafs ninth round pick has survived every round of cuts so far and is the only player left in camp who is not on an NHL contract.
Submitted by chad on September 24, 2013 - 13:09
We continue our Prospect of the Week award this season, an honor (virtually) given to one Tampa Bay Lightning prospect for their recent contributions on and off the ice.
The Prospect of the Week for September 24, 2013 – our first of the season – is … Adam Erne, Tampa Bay (NHL) and Quebec (QMJHL).
Like we've been saying, it's Adam Erne's world.
When Lightning General Manager Steve Yzerman passed on defenseman Seth Jones in the first round at this summer's entry draft in favor of dynamic winger Jonathan Drouin, we figured Yzerman's target in the second round would be a defenseman or power forward.
Submitted by chad on September 20, 2013 - 13:49
Each summer for the past three years Tampa Bay Lightning General Manager Steve Yzerman has added an extra prospect – or "bonus draft pick" – to his prospect pool. A player the organization considers worthy of a pro contract but slips through the draft is signed and the player development process begins.
In 2010, Yzerman's first year on the job, it was free agent defenseman Charles Landry. Tampa Bay signed the righty two-way defenseman to a standard rookie contract and sent him back to QMJHL Montreal.
Submitted by chad on August 29, 2013 - 12:43
If NHL dynasties are built from the ground up and within, scouts may be the most underrated pieces of the process. Sure, they get their hat-tips at the draft, and some get to share the stage with the recognizable faces of the franchise, but for the most part they go about their work watching 200 games a year and writing countless player reports without fanfare.
As prospect followers, we're big fans of these unrecognizable faces.
Brad Whelen, an amateur scout for the Lightning in western Canada, was featured on The Pipeline Show this week, giving us a chance to at least put a voice with a name.
Run by Dean Millard and Guy Flaming and based in Edmonton, Alberta, The Pipeline Show is in its ninth year covering hockey prospects at all levels.
A former head scout with the WHL's Calgary Hitmen, Whelen is one of four amateur scouts with the Lightning and covers the Western Hockey League, as well as the four Junior A leagues in western Canada (BCHL, AJHL, SJHL, MJHL), and some Canadian university hockey.
Submitted by pete on July 9, 2013 - 14:37
Introduction
The golden age of the Lightning farm system continues. Despite the Syracuse Crunch's loss in the AHL's Calder Cup Finals, the Lightning organization can still boast arguably the finest prospect depth in the NHL. That depth is further bolstered by a 2013 NHL Entry Draft that saw the Lightning add a potential franchise player and also a player who was ranked by several scouting services in their top 15 prospects in the draft class. As of right now, it truly appears the Lightning may be set for a generation at the forward and goaltending positions. And, while there's still much work to be done on defense, it's no exaggeration to say the future has never been brighter. Indeed, Hockey Prospectus has even gone so far as to name the Lightning the top prospect system in the league, which is a true feather in the cap of an organization that was universally panned by the hockey media for player development just a half decade ago.
Bolt Prospects' 2013-2014 Final/Supplemental Rankings follow our websites rules for eligibility for prospects. Players 24 years or older on opening night of the Lightning's season (or what was supposed to be opening night prior to its cancellation due to the NHL lockout, in the case of this season) are considered overage prospects and are not eligible for the rankings. For that reason, a prospect like Riku Helenius isn't in the list. Additionally, skating prospects that have appeared in 41 NHL games in a single season or 82 career NHL games are no longer eligible for the list, which is why Brett Connolly is considered graduated and no longer in the rankings. For goaltenders, the bar is a little lower with 30 NHL decisions in a single season necessary for graduation and 41 NHL decisions in a career being the threshold to become a Bolt Prospects Alumni. Finally, all NCAA-based players remain eligible for the rankings regardless of age for the full duration of their college careers. There will be a quiz later.
Until then, please enjoy Bolt Prospects' 2013-2014 Final/Supplemental Rankings...
Submitted by pete on June 30, 2013 - 14:42
Name: Jonathan Drouin
Position: Left Wing
Height: 5'10"
Weight: 186 lbs
Club: Halifax (QMJHL)
Tampa Bay elects to forego selecting perhaps the best need pick in favor of the player who might be the best prospect in this draft in slick winger Jonathan Drouin out of Halifax. Drouin starred on a line with top overall pick Nathan MacKinnon as Halifax swarmed to QMJHL and Memorial Cup titles.
Strengths:
Drouin mixes some of the best hockey sense and passing ability to be seen in the draft in quite some time with world class stickhandling ability and lateral quickness and skating. He truly appears to have the puck tied to the blade of his stick with a string. Add to that a solid shot and you have a player who is equally adept at shooting, passing, or making you look foolish by carrying it past you in the offensive third. As an added intangible, Drouin might also be one of the fiercest competitors in the draft, and while he may not be a bone cruncher he will go to the high traffic areas to make plays.
Weaknesses:
Drouin is not the ideal NHL size and he doesn't have a top level gear in terms of straight line speed. Those knocks should be tempered by saying he does have excellent lower body strength and really just needs to get his upper body strength to the same point, and his straight line speed may be compensated for by his lateral agility and advanced ability to read the play. Also, like many young forwards, he needs to continue to work on his play in the defensive third.
Projection:
Top Line Left Winger and Top-20 NHL Scorer
Comparisons:
Names That Have Been Floated: Patrick Kane, Claude Giroux, Martin St. Louis, Denis Savard, Gilbert Perrault
Submitted by jghoughtaling on June 7, 2013 - 19:05
For the Syracuse Crunch, it's all about setting the tempo.
With the Grand Rapids Griffins visiting the Onondaga County War Memorial for Games 1 and 2 of the Calder Cup Finals Saturday and Sunday, the Crunch are focused on their own play more than the Griffins' talented forwards.
"What we really have to focus on isn't what they're going to bring at us," said Syracuse defensemen Jean-Philippe Cote. "We've got to set the tone, and play as high-tempo as we can."
"We don't want them to dictate the pace of play…We don't want them to play their game; we want them to play our game," said Crunch forward JT Wyman.
That game plan has worked for Syracuse.
After sweeping the Portland Pirates in the first round and the Springfield Falcons in the second, the Crunch topped the Wilkes-Barre/Scranton Penguins in five games. Ondrej Palat is tied for the league lead in postseason points (20), and Tyler Johnson, the league's most valuable player, is just three points behind.
Submitted by jghoughtaling on June 7, 2013 - 09:46
Despite being a former first-round draft pick, Philippe Paradis isn't known for his scoring touch.
The Syracuse Crunch grinder was held without a point in his first 11 games of the Calder Cup playoffs as he was more focused on finishing his checks to soften up the opposition's defense.
With a chance to eliminate the Wilkes-Barre/Scranton Penguins last Saturday, Paradis finally broke through to the scoresheet in a big way. The Quebec native scored three times in a 7-0 rout, and the Crunch finished off the Penguins in Game 5 of the Eastern Conference Finals.
"I was just trying to get the first one," Paradis said. "The game was tight; that one was more important than the other ones. I just put the puck on the net and ended up scoring."
While Syracuse's Ondrej Palat is tied for the postseason points lead with 20 points, and the league's most valuable player, Tyler Johnson, is three points behind, the Crunch's depth players -- the shutdown line and crash and bang guys -- have chipped in with some of the more crucial goals.
With Syracuse hosting the Grand Rapids Griffins in Game 1 of the Calder Cup Finals Saturday, the Crunch are hoping to continue receiving offensive output from each player.
Submitted by jghoughtaling on June 6, 2013 - 08:50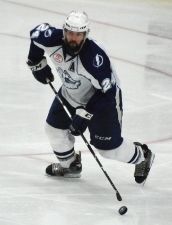 For Jean-Philippe Cote, leadership begins off the ice.
The Syracuse Crunch defenseman knows that although he needs to use his play as an example for the younger players on his team, there is another element to wearing a letter on his sweater. Cote believes getting the best out of each player begins with making them feel comfortable.
"I like when a guy like (rookie defenseman) Andrej Sustr comes to me like 'Is there anything I can do to be a better player?'" Cote said. "I love it. I like discussing hockey with those younger guys. But to get someone on the team, that happens outside the ice."
Like last year on the Calder Cup-winning Norfolk Admirals, the leadership of captain Mike Angelidis and alternate captains Cote Mark Barberio -- among many others -- has pushed the Syracuse Crunch into the American Hockey League finals.