Features
Articles that are feature stories.
Submitted by jghoughtaling on November 14, 2012 - 18:01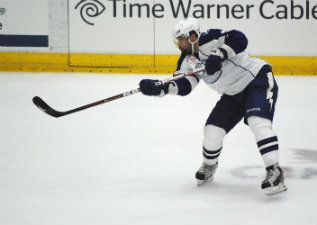 By Jeremy Houghtaling

Growing up, Radko Gudas modeled his game after two players.
The first, his father Leo, represented his country in multiple world championships and won the bronze medal for Czechoslovakia in the 1992 Olympics.
"I learned how he played, and that's how I play," Gudas said. "He was a really hard hitter, he had a good shot – a really good defenseman."
North American hockey fans are more familiar with the second player – longtime NHLer Scott Stevens, a fearsome defenseman with the most penalty minutes of any player enshrined in the Hall of Fame.
Submitted by mike on November 13, 2012 - 19:58
Elitserien (Sweden)
Brynas 4 @ Linkopings 1
Johan Harju, Brynas, 0-1-1, +1, 0 PIM, 2 SOG
Season totals: 21 GP, 7-4-11, +1, 29 PIM
Bolstered by Andreas Thuresson's two goals and and Robin Rahm's steady performance (28 total saves) in net, Brynas leapfrogged Linkopings in the standings with a decisive road victory. Johan Harju had the primary assist on what proved to be the game-winning goal by Sebastian Enterfeldt with just over three minutes remaining in the first. Harju now has points (2 goals, 2 assists) in three of his last four Elitserien games dating back to October 30th. Calle Jarnkrok, selected in the 2nd round of the 2010 NHL entry draft by Detroit, hit the stat sheet with two assists. Late in the second period, Simon Hjalmarsson managed the lone score for Linkopings, which sent plenty of rubber (23 shots) Rahm's way over the middle and final frame but could not get the score any closer. Up next for Brynas (9-6-3-3, 36 PTS) is a showdown with league-leading HV 71, (12-4-3-1, 43 PTS), which has won the last three matches between the two clubs, on Thursday.
Submitted by chad on November 7, 2012 - 14:33
JT Brown was just getting his feet wet in the National Hockey League.
In the final game of the 2011-12 regular season – his fifth game since the free agent collegian chose the Tampa Bay Lightning – the highly sought-after prospect registered an assist for his first professional point.
But more importantly, the short time in Tampa gave Brown a taste of the NHL lifestyle, the speed of the game, and the coaching systems.
Submitted by jghoughtaling on November 2, 2012 - 17:00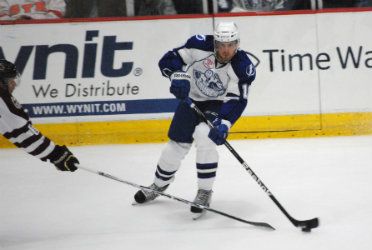 By Jeremy Houghtaling

Alex Killorn certainly doesn't seem like a rookie.
With nearly as many playoff games as regular season, the 6-foot-1, 201-pounder is quietly piling up points like a veteran.
Registering six points over his first seven games in his first full professional season with the Syracuse Crunch, Killorn is improving on the impressive pace he set during his first taste of pro hockey last spring.
"When he came in, the game slowed down for him right away, within a couple of games," Crunch head coach Jon Cooper said. "You look at some of our other rookies…It took those guys a little bit more time."
Submitted by jghoughtaling on October 23, 2012 - 11:32

By Jeremy Houghtaling

As far as Mark Barberio is concerned, this season started with a clean slate.
Four months ago the 22-year-old, in his second professional season, hoisted the Calder Cup with the Norfolk Admirals and was named the winner of the Eddie Shore Award as the American Hockey League's top defenseman – and he's the first to point out those accomplishments are in the past tense.
"It was one season, and I'm not going to sit on that season and say 'Yeah, I had a good year,'" Barberio said. "That's all great, but there's a new season now and it's time to get back at it and win hockey games again."
Last season, Barberio notched 61 points in 74 regular season games and followed with nine points in 18 playoff contests. Now the Syracuse Crunch power play quarterback, it took Barberio a little more than five minutes to find the back of the net in the season opener in Rochester.
Submitted by jghoughtaling on October 17, 2012 - 13:09

By Jeremy Houghtaling
When Ondrej Palat was first drafted as a 19-year-old, the Tampa Bay Lightning weren't sure if he could immediately challenge for a spot in the American Hockey League.
The Czech winger, taken in the seventh round in 2011, didn't waste time showing he was ready to make the jump to professional hockey, earning a contract less than a month into the 2011-12 season.
Now, after posting 39 points in his initial AHL campaign with the Norfolk Admirals and winning a Calder Cup, Palat is settling into his role on one of the Syracuse Crunch's top lines.
Submitted by chad on October 12, 2012 - 15:03
At 22 years old, Tyler Johnson already has a tough time picking out the biggest accomplishment of his young career.
Success seems to follow the Syracuse Crunch center, who won the Memorial Cup in his first junior season, won a gold medal at the World Junior Championships, and hoisted the Calder Cup last year in his rookie professional season.
"Each specific trophy has great memories, and holds a different piece of my heart," Johnson said.
Submitted by chad on October 11, 2012 - 20:40
For many of the Syracuse Crunch players, the beginning of the new hockey season comes with high expectations.
A previous season that included a record-breaking 28-game win streak and was capped with a sweep of the Toronto Marlies in the Calder Cup finals will tend to do that. But the 15 former Norfolk Admirals moving to Syracuse with the Tampa Bay Lightning affiliation welcome the pressure.
Submitted by chad on September 21, 2012 - 17:42
North American Juniors Preview
For the second year in a row, the Lightning won't have any drafted prospects in the Western Hockey League. This is odd, considering the physical WHL is regarded as one of, if not the best junior league for developing NHL talent. While Guy Boucher may favor the QMJHL and Steve Yzerman the OHL, the Lightning's Head Scout, Al Murray, is based in Saskatchewan – WHL territory. Also, for the first time in a while, the club doesn't have a prospect in the United States Hockey League.
The Bolts have seven prospects in Canadian juniors this season:
Submitted by chad on September 21, 2012 - 16:04
The Syracuse Crunch will open training camp on September 28 with more talent than they originally expected. The NHL lockout forced the postponement of the Lightning's training camp and subsequently meant all prospects and young NHLers expected to start the year in Tampa will now start the year in the AHL.
Lost in this situation is the opportunity to have out-of-nowhere stories like Cory Conacher or Brett Connolly last year or perhaps most famously, Dmitri Afanasenkov in 2003.
While that's bad news for the Tampa Bay media and fans, it's good news for the Syracuse fan base, who at this point is like a kid with a birthday the day after Christmas. Not only does a championship team show up at their arena's front door, now they get a significant upgrade in talent to a team that was already expected to compete for a championship.
This is also good news for the Florida Everblades – another team coming off a championship – as they'll get the players pushed down from Syracuse.
The question is who?
Here's a look at the latest minor pro organizational roster of the Tampa Bay Lightning and some notes and predictions for each player, broken down by position.
Today: Centers