Killorn, Alexander
Submitted by pete on December 15, 2012 - 23:39
The weekend marks a return to Jon Cooper hockey...
WBS-0
SYR-4
Dustin Tokarski pitched a 29 save shutout to match the 0'fer Riku Helenius posted last night. Tokarski now has a 2 game winning streak after going an ugly 1-3-1 in his previous 5 starts.
First Period
SYR Connolly, (12) (Wyman, Killorn), 14:35
Second Period
SYR Killorn, (8) (Devos, Brown), 11:21 (PP)
Third Period
SYR Labrie, (6) (Johnson), 5:07
SYR Johnson, (16) (Panik, Palat), 16:37 (PP)
Tic, Alex Killorn, and Tyler Johnson were the game's three stars. Killorn now has goals in 5 of his last 6 games. He's officially more on fire than a 1978 Ford Pinto after a rear end collision.
This weekend's two game set was a return to what makes Jon Cooper hockey so special. It's not just that the team will score a ton of goals. It's not just that they're tough as nails. At the heart of it all, what made last year's team in Norfolk so special was that they also played suffocating defense, too. They beat you like you stole large sums of money from them in every single phase of the game, and often made you look like a pee wee team in the process. And it didn't matter if it was Tic or Janus between the pipes, either. Back-to-back shutout annihilations should send a chilling message to the rest of the Eastern Conference. After two weekends of looking mortal, the next generation of the Lightning has returned to the style Jon Cooper preaches, and may God have mercy on the rest of the AHL's souls if they keep it up.
Syracuse is off until Friday when they'll try to continue their team shutout streak against last night's victim, Adirondack.
Box score from TheAHL.com.
Submitted by pete on December 14, 2012 - 22:41
Riku makes the Phantoms' scoring chances disappear.
SYR-3
ADK-0
Riku Helenius stopped all 21 shots he faced for his second shutout of the season. Coming into the season, Helenius had just one shutout in 37 career AHL appearances. Now he has two in his first 11 appearances since re-emerging from Finland.
First Period
NO SCORING
Second Period
SYR Killorn, (7) (Aulie), 4:53
SYR Panik, (12) (Korobov), 9:39 (SH)
Third Period
SYR Gudas, (2) , 13:44
Helenius, Alex Killorn, and Radko Gudas were the game's three stars. Killorn scored his fourth goal in the past five games.
After a five game scoreless streak, Richard Panik and the Panik attack returned to the scoresheet with a shorthanded goal.
This was a rough, brutal game that saw the teams combining for 119 penalty minutes. If you're looking for one of the biggest differences between the AHL and the NHL versions of the Lightning, it's that the Crunch are tougher than the steak you get at Golden Corral.
Syracuse tries to wrap up a solid week tomorrow at home against the Penguins.
Box score from TheAHL.com.
Submitted by jghoughtaling on December 13, 2012 - 00:26
It has been stressed to Brett Connolly that he needs to drive to the net.
The 20-year-old Syracuse Crunch forward followed through against the Binghamton Senators Wednesday at the Onondaga County War Memorial, potting a pair of goals in the Crunch's 4-3 win.
"Coach has been all over me to do that," Connolly said. "That's where I've been scoring all my goals."
Submitted by pete on December 12, 2012 - 21:51
Connolly cracks Lehner twice, with the help of Korobov.
BNG-3
SYR-4
Dustin Tokarski allowed 3 goals on just 18 shots for the win.
First Period
SYR Killorn, (6) (Angelidis, Wyman), 9:35
BNG Hoffman, (4) (Da Costa, Benoit), 11:53 (PP)
SYR Taormina, (4) (Conacher, Killorn), 19:25
Second Period
SYR Connolly, (10) (Labrie, Korobov), 11:27
BNG Hoffman, (5) (Silfverberg, Benoit), 18:02 (PP)
Third Period
SYR Connolly, (11) (Korobov, Devos), 7:16
BNG Stone, (3) (Grant, Dziurzynski), 14:06
Brett Connolly and Alex Killorn were the game's first and second stars. Connolly's 11 goals now put him in a tie with teammate Richard Panik and 3 others for 11th in the league in goals, 4 back of leader Tyler Johnson. Killorn, for his part, has goals in 3 of his last 4 games and sits tied for 11th amongst all AHL rookies in scoring.
Congratulations to Dmitry Korobov on his first AHL multi-point game. He's got 5 points in his last 6 games.
Syracuse goes to Adirondack on Friday.
Box score from TheAHL.com.
Submitted by pete on December 7, 2012 - 22:13
Crunch squash Hamilton.
HAM-1
SYR-5
Riku Helenius allowed just 1 goal on 20 shots for the victory.
First Period
SYR Palat, (3) (Barberio, Johnson), 0:26
SYR Connolly, (8) (Killorn, Johnson), 7:08 (PP)
SYR Taormina, (3) (Conacher, Brown), 13:42 (PP)
HAM Palushaj, (7) (Beaulieu, Leblanc), 19:42
Second Period
NO SCORING
Third Period
SYR Killorn, (4) (Palat, Barberio), 6:28
SYR Labrie, (4) (Connolly, Korobov), 11:08
Brett Connolly, Ondrej Palat, and Alex Killorn were the three stars of the game.
Don't look now, but Palat has snuck past teammate Dmitri Korobov into the top spot in the league in +/- at +17. Tyler Johnson, who still leads the league in goal scoring, is lingering in a tie for third in the league at +14.Richard Panik and Radko Gudas are also in the top-20 in the league in the statistic.
Syracuse gave some rough treatment to former Lightning farmhand Cedrick Desjardins, running up a 42-20 shot advantage en route to pinning 5 goals on him. When you score 26 seconds into a game and swarm to a 3-0 lead within the first 14 minutes, it's safe to say you were ready to go at puck drop.
Keith Aulie (pictured) was back in the lineup for Syracuse for the first time since late October. The big d-man was +2 with 3 shots on goal.
Syracuse will move on to face Adirondack tomorrow night.
Box score from TheAHL.com.
Submitted by pete on November 24, 2012 - 20:37
And the Panik attack continues...
SYR-4
ALB-1
Riku Helenius stopped 18 of 19 shots he faced for the victory.
First Period
SYR Conacher, (9) (Taormina, Connolly), 14:52
Second Period
ALB Whitney, (1) (Henrique), 5:00
SYR Johnson, (11) (Panik, Palat), 10:26
SYR Killorn, (3) (Johnson, Palat), 13:04
Third Period
SYR Panik, (8) , 8:17
Tyler Johnson and Richard Panik were the game's first and second stars. Panik extended his scoring streak to nine games, matching the other two longest streaks in the AHL this season. More importantly, Panik is now creeping into the league leaders in goals and points alongside fellow Crunch forwards Johnson and Cory Conacher. This is big news for the Lightning organization. If he translates his stellar play in November consistently over the rest of the year, he will be in Tampa Bay next season. There's never been any doubt Panik has the highest upside of any forward in the Lightning organization. If he puts it all together, he's Marian Hossa reincarnate, and the rest of the NHL should be wary of him joining a team that already has the likes of Steven Stamkos and Victor Hedman.
Alex Killorn got the third goal of his rookie campaign tonight and it's hard not to be pleased with the 11 points he has in his first 16 games, but there's something instructive buried deeper in the stats. Killorn actually leads Syracuse in shots on goal with 49, ahead of Johnson's 47. The difference is that Johnson has an NHL shot and Killorn doesn't, yet. Developing an NHL shot can be done with hard work. Ask Vincent Lecavalier. And, if Killorn puts that work in, it can be the difference between a 5-10 year NHL career as a lower-liner and a 10-15 year career as a top two-liner. With the style of game he plays, which is a north-south, shoot first kind of game, if he fine tunes his shot he's going to score a lot of goals. He's an Ivy League guy, so I suspect he's capable of calculating the difference in career earning power in both scenarios. And, when he does, I'm fairly confident he'll find the cost-benefit of putting that extra time in will be well justified.
Syracuse ends their weekend set tomorrow afternoon in Worcester.
Box score from TheAHL.com.
Submitted by jghoughtaling on November 2, 2012 - 17:00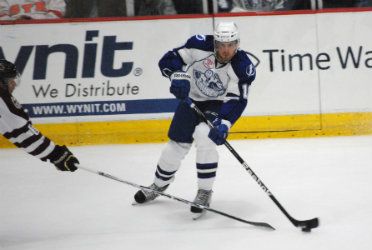 By Jeremy Houghtaling

Alex Killorn certainly doesn't seem like a rookie.
With nearly as many playoff games as regular season, the 6-foot-1, 201-pounder is quietly piling up points like a veteran.
Registering six points over his first seven games in his first full professional season with the Syracuse Crunch, Killorn is improving on the impressive pace he set during his first taste of pro hockey last spring.
"When he came in, the game slowed down for him right away, within a couple of games," Crunch head coach Jon Cooper said. "You look at some of our other rookies…It took those guys a little bit more time."
Submitted by jghoughtaling on October 28, 2012 - 19:57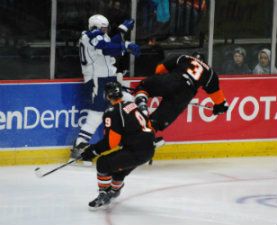 By Jeremy Houghtaling

The game turned quickly.
Having shut down eight previous Adirondack Phantom power plays, the Syracuse Crunch clung to a 3-2 lead with less than two minutes remaining.
Brayden Schenn capitalized on a 6-on-3 with 1:02 left in regulation with Cal Heeter pulled from the Phantoms' net to tie the game and Brandon Manning found the back of the net on a 5-on-3 14 seconds into overtime as Adirondack stunned Syracuse with a 4-3 win at the Onondaga County War Memorial Sunday afternoon.
Submitted by pete on October 28, 2012 - 18:12
Snatching defeat from the jaws of victory.
ADK-4
SYR-3 (OT)
Riku Helenius allowed 4 goals on 29 shots for the overtime loss. He's struggled in his past couple of starts and currently checks in with a horrific .824 save percentage. Ouch.
First Period
SYR Connolly, (3) (Conacher), 8:21 (PP)
Second Period
ADK McGinn, (2) (Syvret, Schenn), 1:07
ADK McGinn, (3) (Schenn, Mangene), 8:45
SYR Killorn, (1) (Palat), 13:31
SYR Killorn, (2) (Taormina), 14:01 (PP)
Third Period
ADK Schenn, (4) (Couturier, Gustafsson), 18:58 (PP)
Overtime
ADK Manning, (2) (Schenn, Couturier), 0:14 (PP)
Alex Killorn (pictured) was named the game's second star. I got a question on the message boards about Alex Killorn's quiet start. Two goals and six points in his first seven games is nothing to sneeze at. On the list of things that concern me about the start of this season, J.T. Brown getting nicked up and Richard Panik having his photograph on the side of a milk carton rate quite a bit higher.
Syracuse came within 1:02 if taking a win against an Adirondack team that, on paper, looks to be one of the better teams in the conference. I liked the start, with Brett Connolly cashing a check he wrote in his interview after yesterday's game, and I liked Killorn bringing the team back after surrendering the lead in the first half of the second period. But, they got back on their heels a bit in the third period and didn't quite get that one more big save they needed. Welcome to the lockout version of the AHL, boys. You're going to have to up your game when protecting a lead when 1/4 of Adirondack's roster was playing in Flyers jerseys last year.
The rematch goes down Friday night in Adirondack.
Box score from TheAHL.com.
Submitted by chad on October 14, 2012 - 08:57
Fruitless on four previous power play attempts, the Syracuse Crunch found themselves with a two-man advantage for nearly two full minutes early in the third period Saturday.
With plenty of extra time and space, it took only 34 seconds for Mark Barberio to set up Brett Connolly with a one-timer that beat Hershey Bears goalie Braden Holtby from the point.
"I had a few chances last night and tonight," Connolly said. "It's always nice to see the puck go in the net."