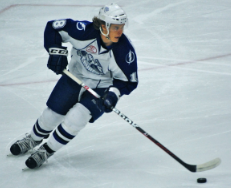 By Jeremy Houghtaling

Vladislav Namestnikov dipped his shoulder, turned the corner on the defenseman and drove right to the net.
The Crunch forward plowed through Springfield Falcons goalie Curtis McElhinney, creating a rebound for Mark Barberio to bury less than a second later to give Syracuse a two-goal lead in the fourth game of the Eastern Conference Semifinals last week. It was Namestnikov's first of two assists on the night, his first professional postseason points.
"Not a lot of players make that play," said Syracuse coach Rob Zettler. "A lot of players go behind the net instead of going to the front of the net. He's got the courage and the speed to make those plays."
For Zettler, it's just one example of the recent development in Namestnikov's game.
"Over the last two or three weeks, his play has really elevated," Zettler said of the 20-year-old. "He's really skating well, he's battling for pucks and going to the hard areas."