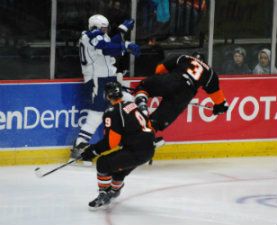 By Jeremy Houghtaling

The game turned quickly.
Having shut down eight previous Adirondack Phantom power plays, the Syracuse Crunch clung to a 3-2 lead with less than two minutes remaining.
Brayden Schenn capitalized on a 6-on-3 with 1:02 left in regulation with Cal Heeter pulled from the Phantoms' net to tie the game and Brandon Manning found the back of the net on a 5-on-3 14 seconds into overtime as Adirondack stunned Syracuse with a 4-3 win at the Onondaga County War Memorial Sunday afternoon.