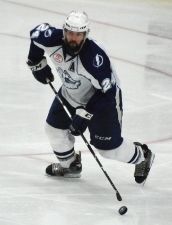 For Jean-Philippe Cote [4], leadership begins off the ice.
The Syracuse Crunch defenseman knows that although he needs to use his play as an example for the younger players on his team, there is another element to wearing a letter on his sweater. Cote believes getting the best out of each player begins with making them feel comfortable.
"I like when a guy like (rookie defenseman) Andrej Sustr [5] comes to me like 'Is there anything I can do to be a better player?'" Cote said. "I love it. I like discussing hockey with those younger guys. But to get someone on the team, that happens outside the ice."
Like last year on the Calder Cup-winning Norfolk Admirals, the leadership of captain Mike Angelidis [6] and alternate captains Cote Mark Barberio [7] -- among many others -- has pushed the Syracuse Crunch into the American Hockey League finals.
"All the guys are really good leaders and they went through this last year," Sustr said. "I'm just trying to follow what they're doing, how they're acting and how they carry themselves. It's a great experience to be with such a good group of guys in the lockerroom."
That sentiment stretches beyond the blue line. Rookie forward JT Brown, flanked by veterans JT Wyman and Angelidis, has spent his postseason playing on the Crunch's shutdown line.
"It helps out a lot playing with those guys," Brown said. "You don't have to do too much, they're always doing what they're supposed to and they're vets and they know what needs to be done. If there's anything where I slip up, they correct me and let know what needs to be done."
Syracuse coach Rob Zettler has made a point to reward players for the plays that matter but don't show up on the scoresheet. The younger guys then follow suit.
"We always show when guys do little things like blocking shots or taking a hit to make a play," Zettler said. "Then you start to see guys like Sustr or a guy like Brown do those types of things."
With more than a dozen guys with Calder Cup rings, there are plenty of guys who bring leadership, whether they have letters on their chest or not.
"We have guys that have been here and won Calder Cups and bring that leadership role to this team," Angelidis said. "A lot of the guys last year that were first-year guys are big time leaders for us this year."
Pictured: Crunch defenseman Jean-Philippe Cote skates the puck up the ice against the Penguins at the Onondaga County War Memorial May 25.