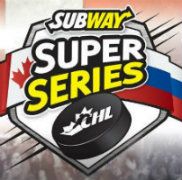 Russia 0 @ Team WHL 1 (SO)
D Nikita Nesterov [8], RUS: 0-0-0, E, 4 PIM
Series totals: 5 GP, 0-0-0, E, 4 PIM
D Artem Sergeev [9], RUS: Did not play
Series totals: 1 GP, 0-0-0, +2, 0 PIM
G Andrei Vasilevskiy [10], RUS: Did not play
Series totals: 1-2-0, 3.01 GAA, .903 sv%
After 60 scoreless minutes, Team WHL scored three times on four attempts to beat the Russians in the shootout Wednesday in Vancouver.
Hunter Shinkurak, Mark McNeill and Sam Reinhart each tallied goals in the shootout, and WHL netminder Laurent Broissant stopped all three shots he faced. During regulation, the Flames prospect stopped 30 shots and Andei Makarov made 35 saves in the Russian net.
Lightning prospect Nikita Nesterov, who wore an A for Russia, was whistled for a pair of minor penalties in the third period, once for interference at the 2:55 mark and once for holding at 12:59. Shinkurak went to the box for a coincidental minor (unsportsmanlike conduct for embellishment) with Nesterov on the latter penalty.
Team WHL went 0-for-3 on the power play, while Russia went 0-for-2 with the man-advantage.
Trailing in points 8-7, Russia (2-2-0-1) wraps up the Subway Series against the WHL in Victoria, B.C. Thursday.
Box Score [11] | Highlights [12]