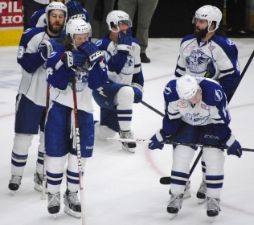 By Jeremy Houghtaling
As Syracuse Crunch captain
Mike Angelidis
paused, cheers could still be heard from the ice.
After beating the Syracuse Crunch 5-2 in Game 6 of the American Hockey League finals at the Onondaga County War Memorial Tuesday, each member of the Grand Rapids Griffins took their turn hoisting the Calder Cup.
"It's tough, it's really tough," Angelidis said. "You compete that long in the season. It kills you."
Despite becoming the first team in league history to win back-to-back road elimination games after going down 3-0 in the series, the end result was hard to take.
"You're just disappointed, you're upset," said Angelidis, one of almost a dozen players who won the cup last year with the Norfolk Admirals. "When we don't win the Calder Cup, it's a failure for us. We lost. There's nothing good about this. We have to learn from this, I guess. We know what it takes to win every night, we just fell a little short."
Crunch defenseman Jean-Philippe Cote described the feeling as "devastating."
"This is what we play for…It's hard," he said. "Yes, you have to keep your head up, you made it that far, but it's a disappointment."
read more
http://www.boltprospects.com/content...ainst-griffins