Namestnikov Elevating Game In Postseason
Submitted by Anonymous on May 24, 2013 - 12:51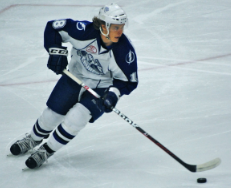 By Jeremy Houghtaling

Vladislav Namestnikov dipped his shoulder, turned the corner on the defenseman and drove right to the net.
The Crunch forward plowed through Springfield Falcons goalie Curtis McElhinney, creating a rebound for Mark Barberio to bury less than a second later to give Syracuse a two-goal lead in the fourth game of the Eastern Conference Semifinals last week. It was Namestnikov's first of two assists on the night, his first professional postseason points.
"Not a lot of players make that play," said Syracuse coach Rob Zettler. "A lot of players go behind the net instead of going to the front of the net. He's got the courage and the speed to make those plays."
For Zettler, it's just one example of the recent development in Namestnikov's game.
"Over the last two or three weeks, his play has really elevated," Zettler said of the 20-year-old. "He's really skating well, he's battling for pucks and going to the hard areas."
With the Crunch beginning the Eastern Conference Finals against the Wilkes-Barre/Scranton Penguins Saturday, Namestnikov knows that's the way he has to continue to play.
"Everything is much faster in the playoffs and everyone is finishing their checks," said Namestnikov. "You have to make decisions quicker."
Namestnikov, who missed more than a month with a shoulder injury, is hoping to build on his 21 points over 44 regular season games. The 6-foot, 170-pound Russian was moved up to a line with Brett Connolly and Dan Sexton last series.
"I played with those guys in the season, so the chemistry is still there," Namestnikov said. "I try to play my game and help the team win."
Namestnikov has been getting pointers from someone who has been there before. His father, John, was on the only other Crunch team to make it to the conference finals in 1996.
"He watches pretty much all the games online," Namestnikov said. "After the games I talk to him and he tells me what mistakes I made and what I need to do better."
Namestnikov, a former first-rounder, knows it's all about developing his game to get to the next level. Although he went to the Memorial Cup Finals with the London Knights last season, these playoffs are different.
"These are big games we're playing, they're playing against good teams, they're playing men out there," Zettler said. "It does nothing but help, obviously."