More Complete Palat Seeks Additional Improvement
Submitted by Anonymous on October 17, 2012 - 13:09

By Jeremy Houghtaling
When Ondrej Palat was first drafted as a 19-year-old, the Tampa Bay Lightning weren't sure if he could immediately challenge for a spot in the American Hockey League.
The Czech winger, taken in the seventh round in 2011, didn't waste time showing he was ready to make the jump to professional hockey, earning a contract less than a month into the 2011-12 season.
Now, after posting 39 points in his initial AHL campaign with the Norfolk Admirals and winning a Calder Cup, Palat is settling into his role on one of the Syracuse Crunch's top lines.
"Last year I didn't have a contract or space in the lineup," Palat said. "It's very different now. I play with (Cory) Conacher and (Tyler) Johnson, so it's perfect."
Palat, Johnson, and Conacher, the AHL's Player of the Week, combined for 11 points in the Crunch's first two contests. Palat himself notched three assists.
Now with a contract and a regular spot in the lineup, he still sees room for improvement.
"Our start has been good, but I'm not happy with my play," he said. "As a line we played good, but I need to improve a lot of things."
Palat knows all about personal improvement. Originally known for his offense throughout his junior career, Palat rounded out the defensive portion of his game last year in Norfolk.
"I came to Norfolk last year and they thought I was more of a power forward that scores goals," he said.
But now Palat sees his role as something different.
"Johnson and Conacher, those guys can score goals and pass, but I'm there for the defensive part," he said.
Alongside Johnson, Palat is now a mainstay in Syracuse's penalty kill, which held opponents to 2-for-15 on the power play over the first two games, with one of those goals coming on a 5-on-3.
"Last year in the playoffs I was on the second line of the kill," Palat said. "I'm very happy and very comfortable there."
On his journey to become a complete player, Palat still wouldn't mind showing off the finishing touch he found in Drummondville of the Quebec Major Junior Hockey League. A linemate of former Philadelphia Flyer and current Adirondack Phantom Sean Couturier, Palat racked up 96 points – 39 goals and 57 assists – in 61 regular season games during the 2010-11 season and added 11 points in 10 playoff games.
With speedy and talented linemates like Conacher and Johnson, it certainly isn't out of the realm of possibilities.
"The second year in Drummondville was special," Palat said. "I hope it's the same thing this year."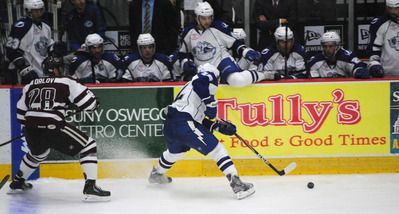 Top: Crunch forward Ondrej Palat chases for a puck while teammate
Cory Conacher
and a member of the Bears battle behind him at the Onondaga County War Memorial Saturday.
Above: Crunch forward Ondrej Palat stops a rolling puck in front of the Syracuse bench in a game against the Bears at the Onondaga County War Memorial Saturday.