Hee Haw Goes Hockey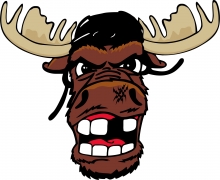 The Moose Jaw Warriors released their third jersey logo this week. You have to wonder if former Warrior and Lightning prospect Blair Jones is regretting signing that professional contract since it means he can't don this jersey and go to battle.
The logo features a moose that's apparently taken an elbow to the chicklets and a slash between the flared nostrils. It is refreshing to know that the moose here, as gritty as they come it seems, still has the sense to abide by league rules and wear a helmet (not sure what the league rules are on antlers, however). Granted, the helmet's not fastened, but he's wearing one. Perhaps it's loose so he can go Evgeni Artyukhin on the first Antoine Vermette he sees skating by. (Note: "Going Evgeni Artyukhin" in this case means taking your helmet off and beating someone with it, not turning down a more than legitimate raise and taking your hockey bag and going home)
And I can't tell if that's just his normal moose hair on his chin (or moose jaw, if you will) or if that's a playoff beard. I'm going with playoff beard. One thing's for certain, though. This Western Canadian Hee Haw moose makes the AHL Manitoba Moose's Mick E. Moose look like a an idiot. If only he had a Ryan Smyth-like mullet. That would be sweet.
The Warriors will wear this jersey for all Friday home games, played in an arena referred to as the "Crushed Can." Seriously.
For those of you immediately falling in love with Darcy Tucker in moose form (without the whining and diving, let's hope), this will blow your mind: Desktop Moose.
With your Bolt Prospects fashion beat, I'm Chad Schnarr.
Note to PETA: No cartoon animals were injured in the making of this logo.