Syracuse Crunch
Submitted by jghoughtaling on November 17, 2012 - 22:55
JT Brown described his team as having a good feeling going into the first intermission Saturday.
Leading 1-0 over the Adirondack Phantoms, it only got better for the Syracuse Crunch, who scored four times in the first 12 minutes of the second period en route to a 5-2 victory -- their second straight -- at the Onondaga County War Memorial Saturday.
"Our team has been playing well the past few games, and that's just the kind of thing we needed," Brown said. "We needed to put together a few good games to get ourselves rolling."
Submitted by pete on November 17, 2012 - 21:34
Dominant.
ADK-2
SYR-5
Riku Helenius allowed 2 goals on 28 shots for the victory. I'm not sure he ever got staked to a 5 goal lead for low-scoring, defensive-minded JYP last season. He had to be reveling in all the goal support tonight.
First Period
SYR Labrie, (3) (Conacher, Barberio), 13:09
Second Period
SYR Conacher, (8) (Taormina, Connolly), 1:32 (PP)
SYR Palat, (2) (Brown, Killorn), 8:19
SYR Connolly, (5) (Brown), 9:59
SYR Panik, (5) (Barberio, Johnson), 11:53 (PP)
ADK Schenn, (8) (Manning, Gustafsson), 13:27 (PP)
Third Period
ADK Gustafsson, (2) (Roe, Syvret), 10:07
Brett Connolly (pictured), Cory Conacher, and J.T. Brown were the game's three stars. Who knows, they could be playing together in Tampa if the owners ever pull their heads out of the sand and have a season.
Pierre-Cedric Labrie and Richard Panik each came within a helper of Gordie Howe hat tricks tonight. The Panik attack has lasted 6 consecutive games now, with points in every game in November. It's his month, I guess.
As I mentioned the last time Syracuse faced the Phantoms, bear in mind this Adirondack roster is dotted with NHLers like Bourdon, Schenn, Couturier, Rinaldo, etc. Their record doesn't bear it out, but that's a very talented team and Syracuse put them over their knee and spanked them hard tonight.
The Crunch finish their weekend tomorrow in Hershey.
Box score from TheAHL.com.
Submitted by jghoughtaling on November 16, 2012 - 22:49
Seeing that there were only four men on the ice after the first Syracuse Crunch line change, Philip-Michael Devos quickly jumped on the ice to join the play.
The center accepted a pass from Richard Panik and fed it to an open Tyler Johnson, who fired the puck past Hershey Bears goalie Braden Holtby to give the Crunch a one-goal lead less than a minute into the game.
"I looked and there were only four guys on the ice, so I'm going to go," Devos said. "I jumped on, and four seconds later, the puck was in the net."
Submitted by pete on November 16, 2012 - 21:49
Bears no match for Nacho.
HER-1
SYR-6
Dustin Tokarski allowed 1 goal on 21 shots for the victory. Light work. He only faced a whopping 2 shots the entire First Period. 2! Life is good for the former WHL star.
First Period
SYR Johnson, (9) (Devos, Panik), 0:59
SYR Labrie, (1) (Conacher, Cote), 16:46
Second Period
SYR Connolly, (4) (Brown, Taormina), 14:28 (PP)
SYR Barberio, (3) (Oberg, Killorn), 16:00
HER Carman, (2) (Orlov, Stafford), 18:56
SYR Labrie, (2) (Barberio, Conacher), 19:23
Third Period
SYR Gauthier, (1) (Wyman), 16:54
Pierre-Cedric Labrie (pictured), Mark Barberio, and Cory Conacher were the game's three stars. For Nacho, the night produced his first two goals of the season, as both Braden Holtby and Dany Sabourin were forced to bow before the might and the power that is PCL.
Panik attack, y'all. That's a 5 game scoring streak for the pride of Martin, Slovakia.
Congratulations to Danick Gauthier on the first goal of his professional career.
Syracuse pounded Hershey for having the simple audacity to step foot in their rink, outshooting the Bears 40-21 in the contest. The challenge steps up a tier or two tomorrow, as they face the more NHL-talent loaded Adirondack Phantoms. Twelve games into the campaign, Syracuse holds a 2 point lead over the Penguins in the division with 2 games in hand, and their 44 goal are tied for tops in the conference even though they've played one less game than Springfield.
Box score from TheAHL.com.
Submitted by jghoughtaling on November 14, 2012 - 17:01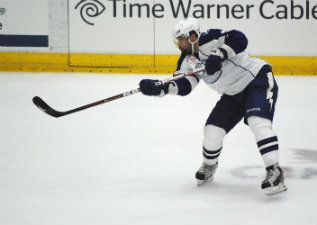 By Jeremy Houghtaling

Growing up, Radko Gudas modeled his game after two players.
The first, his father Leo, represented his country in multiple world championships and won the bronze medal for Czechoslovakia in the 1992 Olympics.
"I learned how he played, and that's how I play," Gudas said. "He was a really hard hitter, he had a good shot – a really good defenseman."
North American hockey fans are more familiar with the second player – longtime NHLer Scott Stevens, a fearsome defenseman with the most penalty minutes of any player enshrined in the Hall of Fame.
Submitted by jghoughtaling on November 10, 2012 - 23:49
Pierre-Cedric Labrie recalled looking at the scoreboard with 14 minutes remaining.
With the Syracuse Crunch trailing 3-2, the forward saw 23 listed as his team's shots on goal. Twelve minutes later -- and the Crunch now trailing by three to the Rochester Americans -- the number had only changed by one.
"We can't win the game (like that) if we're losing by two or three," Labrie said. "If you don't shoot, you don't score."
Syracuse's 5-2 loss at the Onondaga County War Memorial Saturday snapped a three-game winning streak overall, and was the third straight loss on home ice.
Submitted by pete on November 10, 2012 - 22:35
Helenius and the Crunch crumble in the third period.
RCH-5
SYR-2
Riku Helenius allowed 5 goals on 24 shots for the loss. He allowed 3 of those goals on 9 shots in the third period. Helenius looked to be back on the right track after a shutout in his last start, but he's been knocked back down to a 3.78 GAA and an ugly .852 sv% with this result.
First Period
NO SCORING
Second Period
RCH Tarnasky, (3) (Legault, Schofield), 5:28
SYR Panik, (4) (Devos, Killorn), 9:17 (PP)
RCH Rankin, (4) (Biega, Foligno), 12:16
Third Period
SYR Conacher, (7) (Palat, Nightingale), 3:45
RCH Foligno, (6) (Rankin, Flynn), 6:12
RCH Brennan, (6) (Mancari, Sundher), 9:38
RCH Flynn, (4) (Foligno, McNabb), 18:08
Richard Panik (pictured) was the game's second star. After a slow start to his season he now has 4 goals and 8 points in 11 games, and a 4 game points streak.
It's a tough thing to see Bolt Prospects Alumni Nick Tarnasky contribute for Rochester. Et tu, Tarnasty?
Syracuse faces Hershey next on Friday.
Box score from TheAHL.com.
Submitted by pete on November 9, 2012 - 22:43
The defense doesn't rest for the Crunch.
SYR-4
HAM-1
Dustin Tokarski allowed 1 goal on 14 shots for the win. Yes, 14 shots. That's getting a full game check for half the work. Thank your defense, Tic.
First Period
SYR Devos, (1) (Korobov, Gudas), 16:07
Second Period
HAM Quailer, (1) (Nattinen, Dumont), 2:07
SYR Angelidis, (4) (Wyman, Brown), 19:08
Third Period
SYR Johnson, (7) (Panik, Palat), 7:58
SYR Johnson, (8) (Panik, Gudas), 10:55
Tyler Johnson and Ondrej Palat were the game's first and second stars. Palat (pictured) is now tied for 3rd in the AHL in assists.
Panik attack, y'all. 2 helpers.
But, seriously. 14 shots? The Crunch already have an abnormal amount of offensive firepower. You're telling me they also have the ability to hold another professional team to 14 shots on goal defensively? Just give them the repeat now, if that's the case. It's just not fair to the rest of the league.
Box score from TheAHL.com.
Submitted by pete on November 7, 2012 - 21:24
Finland representing.
SYR-3
HAM-0
Riku Helenius (pictured) stopped all 23 shots he faced to post his second career AHL shutout.
First Period
NO SCORING
Second Period
SYR Korobov, (1) (Taormina), 6:01
SYR Wyman, (2) (Killorn, Gudas), 15:40
Third Period
SYR Panik, (3) (Palat), 18:14 (EN)
Helenius and Dmitry Korobov were the game's first and second stars, respectively. Korobov's goal was his first career AHL goal. It was originally awarded to forward J.T. Brown who was back in the lineup tonight after missing a couple of weeks of action. He was +2 with 3 shots on goal. Wait til the rust falls off.
Panik attack, y'all. Empty net style.
The real story is Helenius getting off the canvas, though, with his first AHL shutout since he was a rookie about four years ago. His season GAA and save percentage are still the dog's breakfast, but readers of this site last season know what Helenius did early in the season in the SM-liiga last year when he turned one shutout into bunches of shutouts. It's a good omen for the Crunch.
Syracuse wraps up the two game set against Hamilton on Friday in Montreal.
Box score from TheAHL.com.
Submitted by chad on November 7, 2012 - 13:33
JT Brown was just getting his feet wet in the National Hockey League.
In the final game of the 2011-12 regular season – his fifth game since the free agent collegian chose the Tampa Bay Lightning – the highly sought-after prospect registered an assist for his first professional point.
But more importantly, the short time in Tampa gave Brown a taste of the NHL lifestyle, the speed of the game, and the coaching systems.