Syracuse Crunch
Submitted by pete on June 8, 2013 - 21:12
Long layoff, shaky goal, Mrazek, and the refs cost Syracuse Game One.
GR-3
SYR-1
Grand Rapids leads the series 1-0
Cedrick Desjardins allowed 2 goals on 20 shots for the loss. He's a bit infuriating. He was pretty well excellent throughout the game making several big stops along the way, but the eventual game winner was a long slapshot that he allowed to go through him that you simply cannot surrender in a 1-0 game in the Third Period. So frustrating.
First Period
GR Callahan, (5) (Billins, Evans), 6:45
Second Period
NO SCORING
Third Period
GR Sheahan, (3) (Mursak), 12:00
SYR Cote, (1) (Angelidis, Brown), 13:19
GR Nyquist, (2) (Andersson), 19:45 (EN/PP)
Ondrej Palat was the game's third star. There's little doubt he was the straw that stirred the drink on the reformed PTP line tonight with Richard Panik back in the lineup. They got a fair number of scoring chances, but Petr Mrazek is a damned good goaltender. The Crunch definitely learned that tonight.
Also helping Mrazek out was that Syracuse showed just a bit of rust from their long layoff. In the first half of the game it seemed their short to mid-range passes were just a shade off of clicking, and it really allowed Grand Rapids to keep Syracuse away from the kind of zone time domination the Crunch thrive off of. They've got to find a way to better establish their forecheck headed into Game Two.
Beyond that, it should be noted that the refs waved off a goal in the match on a power play in the Second Period that should have tied the game on a crease violation where the replay showed no real contact with Mrazek. Between that and an interference penalty that went uncalled late in the Third Period right before Panik took a call that essentially ended the contest, the refs influence on the game could hardly be underestimated. Again, frustrating, and I think the wave off of the goal definitely deflated Syracuse for the rest of the Second and on into the early Third Period.
So, now Syracuse falls behind the 8-ball with Grand Rapids stealing home ice and playing with house money in Game Two. Hopefully Syracuse will get Radko Gudas back for the contest, because the thought of being down 0-2 before heading west is beyond unappealing.
Box score from TheAHL.com.
Submitted by jghoughtaling on June 7, 2013 - 19:05
For the Syracuse Crunch, it's all about setting the tempo.
With the Grand Rapids Griffins visiting the Onondaga County War Memorial for Games 1 and 2 of the Calder Cup Finals Saturday and Sunday, the Crunch are focused on their own play more than the Griffins' talented forwards.
"What we really have to focus on isn't what they're going to bring at us," said Syracuse defensemen Jean-Philippe Cote. "We've got to set the tone, and play as high-tempo as we can."
"We don't want them to dictate the pace of play…We don't want them to play their game; we want them to play our game," said Crunch forward JT Wyman.
That game plan has worked for Syracuse.
After sweeping the Portland Pirates in the first round and the Springfield Falcons in the second, the Crunch topped the Wilkes-Barre/Scranton Penguins in five games. Ondrej Palat is tied for the league lead in postseason points (20), and Tyler Johnson, the league's most valuable player, is just three points behind.
Submitted by jghoughtaling on June 7, 2013 - 09:46
Despite being a former first-round draft pick, Philippe Paradis isn't known for his scoring touch.
The Syracuse Crunch grinder was held without a point in his first 11 games of the Calder Cup playoffs as he was more focused on finishing his checks to soften up the opposition's defense.
With a chance to eliminate the Wilkes-Barre/Scranton Penguins last Saturday, Paradis finally broke through to the scoresheet in a big way. The Quebec native scored three times in a 7-0 rout, and the Crunch finished off the Penguins in Game 5 of the Eastern Conference Finals.
"I was just trying to get the first one," Paradis said. "The game was tight; that one was more important than the other ones. I just put the puck on the net and ended up scoring."
While Syracuse's Ondrej Palat is tied for the postseason points lead with 20 points, and the league's most valuable player, Tyler Johnson, is three points behind, the Crunch's depth players -- the shutdown line and crash and bang guys -- have chipped in with some of the more crucial goals.
With Syracuse hosting the Grand Rapids Griffins in Game 1 of the Calder Cup Finals Saturday, the Crunch are hoping to continue receiving offensive output from each player.
Submitted by jghoughtaling on June 6, 2013 - 08:50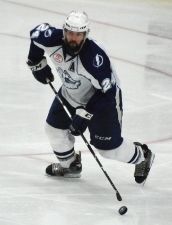 For Jean-Philippe Cote, leadership begins off the ice.
The Syracuse Crunch defenseman knows that although he needs to use his play as an example for the younger players on his team, there is another element to wearing a letter on his sweater. Cote believes getting the best out of each player begins with making them feel comfortable.
"I like when a guy like (rookie defenseman) Andrej Sustr comes to me like 'Is there anything I can do to be a better player?'" Cote said. "I love it. I like discussing hockey with those younger guys. But to get someone on the team, that happens outside the ice."
Like last year on the Calder Cup-winning Norfolk Admirals, the leadership of captain Mike Angelidis and alternate captains Cote Mark Barberio -- among many others -- has pushed the Syracuse Crunch into the American Hockey League finals.
Submitted by jghoughtaling on June 5, 2013 - 00:34
JT Brown may be a rookie on a line with a pair of veterans, but he certainly doesn't look out of place.
Twelve games into his first Calder Cup run, the Syracuse Crunch forward has been counted on to provide timely goals and tough defense that wears down the opposition's top line. Flanked by JT Wyman and Mike Angelidis, Brown is learning from two guys with plenty of postseason experience.
"You don't have to do too much, they're always doing what they're supposed to," Brown said after practice Tuesday. Syracuse hosts Game 1 of the Calder Cup Finals Saturday. "They're vets and they know what needs to be done."
Angelidis, the Crunch's captain who hoisted the cup with the Norfolk Admirals last season, has been impressed by Brown's effort every night.
"He's a fast learner," Angelidis said. "And we're learning things from him too. He's got a good head on his shoulders and he works hard."
Submitted by jghoughtaling on June 1, 2013 - 22:36
After four tight games, Rob Zettler could finally breathe easy.
The Syracuse Crunch head coach, his team leading 5-0 through the first 40 minutes, still kept his team focused on finishing the series off the right way.
Syracuse's Philippe Paradis added a pair of third period goals to finish off a hat trick, as the Crunch routed the Wilkes-Barre/Scranton Penguins 7-0 to win the Eastern Conference Finals series 4-1 at the Onondaga County War Memorial Saturday.
"It felt good to be able to relax back there for a change," Zettler said.
The Crunch, in the Calder Cup Finals for the first time in franchise history, host the winner of Grand Rapids and Oklahoma City next weekend. That series is tied 2-2.
"I don't think we were expecting a 7-0 finish," said Syracuse defenseman Mark Barberio. "We just wanted to stick to our game plan. It's been successful all season and we were opportunistic with our chances."
Submitted by pete on June 1, 2013 - 21:11
Syracuse's 4th liners help put up a touchdown on the Penguins.
WBS-0
SYR-7
Syracuse Wins the Series 4-1
Syracuse Win the Eastern Conference Championship
Cedrick Desjardins stopped all 22 shots he faced for the shutout victory. He was the player of the series, in my opinion. By stealing Game Three, a game where the Crunch played their worst hockey, he really put the Pens behind the eight ball and tonight was the finishing touch.
First Period
SYR Namestnikov, (2) (Sustr, Johnson), 16:04
SYR Gudas, (2) (Brown, Wyman), 16:56
Second Period
SYR Paradis, (1) (Barberio, Sustr), 13:37
SYR Sexton, (4) (Devos), 15:31
SYR Palat, (5) (Sexton, Barberio), 17:58 (PP)
Third Period
SYR Paradis, (2) (Sustr), 1:02
SYR Paradis, (3) (Sexton, Barberio), 5:43
Phillipe Paradis, Desjardins, and Dan Sexton were the game's three stars. Best line of the night? It was Syracuse's extra forwards Paradis and Cedric Paquette (whom I have dubbed "Dump Truck" for his fleet skating ability and work rate). With the Crunch up 2-0 at the end of the First Period, they seemed to take their foot off the gas the first 5 minutes of the Second Period. It looked like the Pens would make a game of it until the 4th liners came in and started to get zone time and turn the momentum back to Syracuse. They never looked back, and Paradis eventually ran up a hat trick for the ages. None of the goals were cheapies, either. Paradis has a surprisingly good shot and absolutely took Zatkoff to school on each one.
Another highlight? Dmitry Korobov beating the tar out of Paul Thompson. You know Thompson thought he was picking a winnable opponent going up against a Belarussian. Wrong. Korobov beat him like he stole a mortgage payment worth of money from him. Remind me never to get Dmitry Korobov mad at me. He rained fists down on the top of Thompson's head with tropical storm force. Wow.
Radko Gudas sat out the Third Period with what appeared to be a lower body bruise. Richard Panik again sat out of the lineup (making room for Dump Truck), but he was in the morning skate and one would assume he will be available in the next series. Grand Rapids looks to be on the way to winning tonight's game against Oklahoma City, which would knot that series up at 2-2. That means it could be half a week before the Crunch know who their Calder Cup Finals opponent is, and you hope it's a week where Grand Rapids and Oklahoma City beat the daylights out of each other while Syracuse heals. Whichever opponent makes it out of the West, Syracuse will have home ice to begin the series, so they've done just about everything they need to strategically to set themselves up to try to collect another title.
Box score from TheAHL.com.
Submitted by pete on May 31, 2013 - 21:25
SyraNo so good when playing with house money over the past 2 seasons.
SYR-4
WBS-2
Syracuse Leads the Series 3-1
Cedrick Desjardins allowed 2 goals on 23 shots for the victory.
First Period
WBS Harrington, (1) (Uher, Holzapfel), 13:40 (PP)
SYR Mikkelson, (2) (Taormina, Palat), 14:57
Second Period
WBS Megna, (2) (Peters, Uher), 16:40
SYR Connolly, (3) (Barberio, Sexton), 18:12
Third Period
SYR Johnson, (9) (Palat, Namestnikov), 1:50
SYR Wyman, (3) , 19:04 (EN)
Ondrej Palat and Tyler Johnson were the game's first and second stars.
This is why this affiliate has been so amazing in the playoffs over the past couple of seasons. They get a team down with a chance to bury them in a deep hole and they don't squander it. With Desjardins basically stealing Game Three, the easy conclusion would be the Pens would put the hammer down even more and even things up at 2-2, especially with Richard Panik out of the lineup. Syracuse doesn't throw their opposition life vests when they are in situations like this, though. They throw them anchors. Now the Crunch will get not worse than two cracks at home to close out the series with a commanding 3-1 series lead.
And, as has been noted in the previous two series, if you can close out a playoff series quickly you should do so. Playoff hockey can be a war of attrition, and the less battles you have to fight to win the war, the less you expose yourself to potential destiny-altering injuries.
Game Five is tomorrow night in Syracuse.
Box score and extended statistics from TheAHL.com.
Submitted by pete on May 29, 2013 - 20:50
Grand theft in Pennsylvania.
SYR-2
WBS-0
Syracuse Leads the Series 2-1
Cedrick Desjardins stopped all 22 shots he faced for the win. He gets a lot of deserved criticism at times for his mechanics and footwork, and Julien BriseBois deserves some scrutiny for moving Dustin Tokarski to get Desjardins. But, Cedrick absolutely stole this game tonight. Stole it. Syracuse was outplayed pretty soundly, especially in the Second Period, and Desjardins just battled right through it. The Penguins have to be demoralized, because they played the game they had to and Desjardins put on his ski mask and heisted the win from them.
First Period
NO SCORING
Second Period
SYR Namestnikov, (1) (Palat), 7:29
Third Period
SYR Brown, (3) (Angelidis), 19:55 (EN)
Desjardins and Vladislav Namestnikov were the game's first and second stars. Namestnikov scored his first pro playoff goal on a slapshot from the high slot shortly after replacing an injured Richard Panik on the team's top line. We'll see if Panik returns for Game Four.
Glad to see J.T. Brown get the empty netter. His line with Angelidis and Wyman was the best the Crunch had tonight my a mile. By. A. Mile. It wasn't even close. I think if Zettler could've cloned that line, he'd have thrown them out for the entire game. That line is in many ways a perfect third line because they're hard on the puck, responsible defensively, and they have just enough scoring touch to keep you honest. Nobody else was doing anything consistently and certain players like Brett Connolly had notably subpar games by their standards.
You hope this was an abberation, and now that Syracuse has stolen home ice back they play up to their usual form in Game Four on Friday. If they can, they've got a shot at the short series. If they can't, and they keep playing like they've played in the last 70 minutes of this series, they're in deep trouble.
Box score from TheAHL.com.
Submitted by jghoughtaling on May 26, 2013 - 22:22
Before the game, Rob Zettler could feel it in the room.
The Syracuse Crunch coach, his team less than 24 hours removed from its first playoff loss, sensed in the banter that things would be different Sunday. Determined to not dwell on the loss, Syracuse knew what it needed to do.
"The guys were ready, they were champing at the bit," Zettler said. "I didn't need to say a whole lot to get them ready for tonight's game."
The Crunch followed through, beating the Wilkes-Barre/Scranton Penguins 3-2 in Game 2 of the Eastern Conference Finals at the Onondaga County War Memorial. Syracuse tied the series 1-1, with Game 3 set for Wednesday in Wilkes-Barre.
"We definitely were crushed a little bit last night, it was our first loss and that's going to happen," said Syracuse defenseman Matt Taormina. "We just had to get back to our game."