Syracuse Crunch
Submitted by jghoughtaling on May 25, 2013 - 22:03
Already down by two with less than nine minutes remaining, a pair of penalties 20 seconds apart seemed to stifle any potential Syracuse Crunch rally.
But the Crunch's Mike Angelidis, Jean-Philipe Cote and Brendan Mikkelson shut down a Wilkes-Barre/Scranton Penguins power play that had already converted twice, giving Syracuse a glimmer of hope during the final stretch.
"I thought our guys did an unbelievable job of getting into the shooting lanes and blocking shots, I thought it was awesome," said Syracuse coach Rob Zettler. "I was hoping for some momentum off that, it just never really came."
The Wilkes-Barre/Scranton held on during a 6-on-4 in their own end during the closing minutes, topping Syracuse 4-2 in Game 1 of the Eastern Conference Finals at the Onondaga County War Memorial Saturday. The loss snaps a streak of seven straight postseason wins for the Crunch, and 17 straight playoff wins for the Tampa Bay Lightning's American Hockey League affiliate.
Submitted by jghoughtaling on May 24, 2013 - 13:51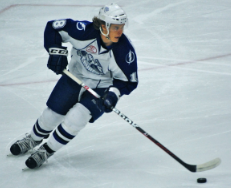 By Jeremy Houghtaling

Vladislav Namestnikov dipped his shoulder, turned the corner on the defenseman and drove right to the net.
The Crunch forward plowed through Springfield Falcons goalie Curtis McElhinney, creating a rebound for Mark Barberio to bury less than a second later to give Syracuse a two-goal lead in the fourth game of the Eastern Conference Semifinals last week. It was Namestnikov's first of two assists on the night, his first professional postseason points.
"Not a lot of players make that play," said Syracuse coach Rob Zettler. "A lot of players go behind the net instead of going to the front of the net. He's got the courage and the speed to make those plays."
For Zettler, it's just one example of the recent development in Namestnikov's game.
"Over the last two or three weeks, his play has really elevated," Zettler said of the 20-year-old. "He's really skating well, he's battling for pucks and going to the hard areas."
Submitted by chad on May 21, 2013 - 16:04
For a 30-goal scorer, Brett Connolly is essentially flying below the radar.
Overshadowed by the success of the Syracuse Crunch's top line, Connolly has quietly continued his nearly one point per game pace in the Calder Cup Playoffs. He has five points in seven postseason games, having already notched 31 goals and 32 assists in 71 games in the regular season.
Submitted by jghoughtaling on May 17, 2013 - 22:48
With a one goal lead and the third period winding down, Matt Taormina found the puck on his stick and looked for an open shot.
After his first attempt was blocked, the Syracuse Crunch defenseman drove toward the net wristed another toward the Springfield Falcons' net. He lost track of it there.
"I shot and I didn't hear anything until the crowd reacted," Taormina said. "I finally knew it actually went in."
The goal put the exclamation point on Syracuse's 5-2 win in Game 4 of the Eastern Conference Semifinals at the Onondaga County War Memorial Friday, as the Crunch swept the Falcons 4-0 to move on to the conference finals.
"They were pressing, they could feel it," Syracuse coach Rob Zettler said of Springfield. "Then Taormina steps up and scores that goal, it's huge. It put a stamp on it for us."
Submitted by pete on May 17, 2013 - 21:12
Syracuse punches their ticket to the Eastern Conference Finals, and they've made it look easy to this point.
SPR-2
SYR-5
Syracuse Wins the Series 4-0
Cedrick Desjardins allowed 2 goals on 30 shots for the victory.
First Period
SYR Wyman, (1) (Devos), 6:04
SYR Barberio, (3) (Namestnikov, Panik), 7:52
Second Period
SPR Craig, (2) (Savard, Jenner), 2:38 (PP)
SYR Wyman, (2) (Brown, Cote), 17:20
Third Period
SPR Joudrey, (1) (Savard, Jenner), 8:35
SYR Taormina, (1) (Connolly), 9:45
SYR Sexton, (2) (Namestnikov), 18:01 (EN)
J.T. Wyman, Mark Barberio, and Matt Taormina were the game's three stars.
You would think with the PTP line held to just 1 point that Springfield would finally get a win in the series, right? Wrong. Syracuse's second and third lines carried the mail and delivered the squad to the next round.
The core of this team that was also in Norfolk for their championship run last season, AKA SyraNo, has won 17 straight playoff games. It's a ridiculous level of success that will be difficult for the league and the media to officially recognize because of the affiliation change. But, it's one of those things that really, in my opinion, gives this group the argument to say they're one of the best in league history. In fact, if they "repeat", I'd say they probably are the best multi-season collection of players in AHL history.
Syracuse's next opponent will probably be top seeded Providence, which holds a 3-1 series lead over Wilkes-Barre/Scranton after a Penguins win tonight. This is where taking care of an opponent and getting the sweep can pay dividends. Every game Wilkes-Barre/Scranton can extend that series depletes Providence's energy and possibly leads to more injuries while Syracuse can conserve theirs and stay healthy. There's the added dimension of Boston still being alive in the playoffs and injury call-ups that comes into play, too. Playoff hockey can be about attrition, and bear in mind Providence went the distance in their first round series against Hershey, too. Advantage Syracuse if Providence can't handle their business in Game Five of their series tomorrow.
Box score from TheAHL.com.
Submitted by jghoughtaling on May 15, 2013 - 22:16
It took Ondrej Palat eight seconds to change the complexion of the game, and less than eight minutes to deal the knockout blow.
The forward scored a shorthanded goal in the opening seconds of the third period to give the Syracuse Crunch a two-goal lead, then set up Tyler Johnson for another shorthanded goal at the 7:24 mark.
The two goals on the penalty kill allowed the Crunch to cruise to a 3-0 win over the Springfield Falcons in Game 3 of the Eastern Conference Semifinals at the Onondaga County War Memorial Wednesday. Syracuse leads the series 3-0, and can move on with a win Friday.
"He was a difference-maker in the third period," said Crunch coach Rob Zettler of Palat. "He made an unbelievable play shorthanded to make it 2-0, and followed it up with an unbelievable pass to Johnson to make it 3-0."
Submitted by pete on May 15, 2013 - 20:53
Springfield just has no answers for Syracuse's top line. None.
SPR-0
SYR-3
Syracuse Leads the Series 3-0
Cedrick Desjardins stopped all 25 shots he faced for his first shutout of these playoffs. Desjardins getting hot must be a terrifying prospect for the teams still alive in the AHL playoffs.
First Period
SYR Panik, (4) (Palat), 15:15
Second Period
NO SCORING
Third Period
SYR Palat, (4) (Johnson), 0:08 (SH)
SYR Johnson, (7) (Palat, Cote), 7:24 (SH)
Ondrej Palat, Tyler Johnson, and Desjardins were the game's three stars. Palat and Johnson are absolutely lethal as penalty killers. They were generating a couple of great chances a night in the Portland series and they haven't let up on Springfield.
Springfield has to be completely deflated with this outcome. They finally managed to get the close, low-scoring game they needed against Syracuse and they couldn't break through Desjardins. Insult to injury is their PP going -2 in the process when they have the man advantage in the Third Period which is when you want to break open a close game.
Friday, Syracuse will try to punch their ticket to the Eastern Conference Finals. For those players on the team who went through the run last year in Norfolk, SyraNo has won 16 straight playoff games going back to the series against the Connecticut Whale last year. Since then they have swept the IceCaps, Marlies, Pirates, and are 1 game away from sweeping away the Falcons. When you think how it takes 15 wins to get a Calder Cup under the current format, and the core of this group's won 16 in a row, it's pretty darn impressive.
Box score from TheAHL.com.
Submitted by chad on May 15, 2013 - 15:40
We continue our Prospect of the Week award, an honor (virtually) given to one Tampa Bay Lightning prospect for their recent contributions on and off the ice.
The Prospect of the Week for April 25 is … Syracuse's Top Gun line (AHL – USA).
Tyler Johnson is sharing the wealth.
Johnson had a hat trick and seven total points (2 GP, 4-3-7) last week as the Crunch came off a week-long break with two wins over Springfield in Massachusetts. Syracuse holds a 2-0 series lead on the Falcons entering Wednesday's Game 3 of the Eastern Conference Semi-finals.
Johnson has won our Prospect of the Week three times in the last six weeks and we're running out of ways to say he's good at the hockey, so we're giving the award to his line, made up of Johnson, Ondrej Palat, and Richard Panik. The line was recently named the Top Gun line, though it has also been called the PTPer (Prime Time Players via Dick Vitale). Regardless of what people are calling it, the line is on fire.
Submitted by jghoughtaling on May 13, 2013 - 11:38
Stacy Roest sees something in Cedric Paquette.
Roest, a developmental coaches working with the Syracuse Crunch practice squad, knows the transition from the junior to professional ranks means a faster pace and stronger competition.
But Paquette, the Tampa Bay Lightning's 2012 fourth-rounder, has the drive.
"He's the ultimate competitor," Roest said of Paquette. "He's a really high compete kid. He has a really good shot. His skating has to come a ways, but he's a good player."
Submitted by pete on May 11, 2013 - 21:14
The PTP'ers put on a special teams clinic.
SYR-5
SPR-3
Syracuse Leads the Series 2-0
Cedrick Desjardins allowed 3 goals on 31 shots for the win. Luv that goal support.
First Period
SYR Panik, (3) (Palat, Johnson), 1:02 (PP)
SYR Angelidis, (2) (Brown), 1:15
SPR Russell, (1) (Audy-Marchessault, Prout), 14:40
Second Period
SYR Johnson, (4) (Connolly, Palat), 8:31 (PP)
SYR Johnson, (5) , 14:05 (SH)
SPR Vogelhuber, (2) (Goloubef, Joudrey), 14:29
Third Period
SYR Johnson, (6) (Panik, Palat), 6:47 (PP)
SPR Jenner, (2) (Holden, Audy-Marchessault), 8:04
Tyler Johnson and Ondrej Palat were the game's first and second stars. Johnson gets the hat trick and the PTP'er line ends up +4 in goal differential on special teams with 3 PP goals and a SH goal. No chance. Springfield's got no chance if they keep letting the Johnson line scorch them like this.
Syracuse now heads home with the 2-0 series lead and Springfield has no answers so far defensively, plus McElhinney's gotten torched through 2 games. Game Three is Wednesday night. Meanwhile, in the East's other series, Providence held serve at home and has a 2-0 series lead of the Penguins, making it look like a Syracuse/Providence matchup is on the horizon.
Box score from TheAHL.com.