Syracuse Crunch
Submitted by pete on May 31, 2013 - 20:25
SyraNo so good when playing with house money over the past 2 seasons.
SYR-4
WBS-2
Syracuse Leads the Series 3-1
Cedrick Desjardins allowed 2 goals on 23 shots for the victory.
First Period
WBS Harrington, (1) (Uher, Holzapfel), 13:40 (PP)
SYR Mikkelson, (2) (Taormina, Palat), 14:57
Second Period
WBS Megna, (2) (Peters, Uher), 16:40
SYR Connolly, (3) (Barberio, Sexton), 18:12
Third Period
SYR Johnson, (9) (Palat, Namestnikov), 1:50
SYR Wyman, (3) , 19:04 (EN)
Ondrej Palat and Tyler Johnson were the game's first and second stars.
This is why this affiliate has been so amazing in the playoffs over the past couple of seasons. They get a team down with a chance to bury them in a deep hole and they don't squander it. With Desjardins basically stealing Game Three, the easy conclusion would be the Pens would put the hammer down even more and even things up at 2-2, especially with Richard Panik out of the lineup. Syracuse doesn't throw their opposition life vests when they are in situations like this, though. They throw them anchors. Now the Crunch will get not worse than two cracks at home to close out the series with a commanding 3-1 series lead.
And, as has been noted in the previous two series, if you can close out a playoff series quickly you should do so. Playoff hockey can be a war of attrition, and the less battles you have to fight to win the war, the less you expose yourself to potential destiny-altering injuries.
Game Five is tomorrow night in Syracuse.
Box score and extended statistics from TheAHL.com.
Submitted by pete on May 29, 2013 - 19:50
Grand theft in Pennsylvania.
SYR-2
WBS-0
Syracuse Leads the Series 2-1
Cedrick Desjardins stopped all 22 shots he faced for the win. He gets a lot of deserved criticism at times for his mechanics and footwork, and Julien BriseBois deserves some scrutiny for moving Dustin Tokarski to get Desjardins. But, Cedrick absolutely stole this game tonight. Stole it. Syracuse was outplayed pretty soundly, especially in the Second Period, and Desjardins just battled right through it. The Penguins have to be demoralized, because they played the game they had to and Desjardins put on his ski mask and heisted the win from them.
First Period
NO SCORING
Second Period
SYR Namestnikov, (1) (Palat), 7:29
Third Period
SYR Brown, (3) (Angelidis), 19:55 (EN)
Desjardins and Vladislav Namestnikov were the game's first and second stars. Namestnikov scored his first pro playoff goal on a slapshot from the high slot shortly after replacing an injured Richard Panik on the team's top line. We'll see if Panik returns for Game Four.
Glad to see J.T. Brown get the empty netter. His line with Angelidis and Wyman was the best the Crunch had tonight my a mile. By. A. Mile. It wasn't even close. I think if Zettler could've cloned that line, he'd have thrown them out for the entire game. That line is in many ways a perfect third line because they're hard on the puck, responsible defensively, and they have just enough scoring touch to keep you honest. Nobody else was doing anything consistently and certain players like Brett Connolly had notably subpar games by their standards.
You hope this was an abberation, and now that Syracuse has stolen home ice back they play up to their usual form in Game Four on Friday. If they can, they've got a shot at the short series. If they can't, and they keep playing like they've played in the last 70 minutes of this series, they're in deep trouble.
Box score from TheAHL.com.
Submitted by jghoughtaling on May 26, 2013 - 21:22
Before the game, Rob Zettler could feel it in the room.
The Syracuse Crunch coach, his team less than 24 hours removed from its first playoff loss, sensed in the banter that things would be different Sunday. Determined to not dwell on the loss, Syracuse knew what it needed to do.
"The guys were ready, they were champing at the bit," Zettler said. "I didn't need to say a whole lot to get them ready for tonight's game."
The Crunch followed through, beating the Wilkes-Barre/Scranton Penguins 3-2 in Game 2 of the Eastern Conference Finals at the Onondaga County War Memorial. Syracuse tied the series 1-1, with Game 3 set for Wednesday in Wilkes-Barre.
"We definitely were crushed a little bit last night, it was our first loss and that's going to happen," said Syracuse defenseman Matt Taormina. "We just had to get back to our game."
Submitted by pete on May 26, 2013 - 19:57
By the skin of their teeth...
WBS-2
SYR-3
Series Tied at 1-1
Cedrick Desjardins allowed 2 goals on 18 shots for the victory. If someone can explain to me what case of amnesia struck he and his defensemen on the second Penguins goal, I'd love to hear it. They forgot they were in a playoff game and they almost set in motion events that could've cost them what should've been an easy win.
First Period
SYR Sexton, (3) (Connolly, Barberio), 18:56 (PP)
Second Period
SYR Taormina, (2) (Angelidis, Sustr), 7:07
WBS Mormina, (1) (Dumoulin, Kolarik), 8:13 (PP)
SYR Korobov, (1) (Gudas, Palat), 11:40 (SH)
Third Period
WBS Holzapfel, (4) (Grant), 14:02
Ondrej Palat, Dmitry Korobov, and Dan Sexton were the game's three stars.
You'll rarely see a game as one-sided as this one was for the first 50 minutes or so. Syracuse dominated territorily and on the shot board, holding the Pens to just 1 shot in the entire First Period. They played like you expect them to play with very good efforts by J.T. Brown and Vladislav Namestnikov, among others, with Dmitry Korobov blowing the game open a bit with a shorthanded goal that he whistled by Thiessen top shelf.
And then all hell broke lose. An accidential collision had Tyler Johnson limping off the ice not to be seen again, and we don't know if he'll be available for Game Three Wednesday. A bizarre play where the D and Desjardins looked like a bunch of clueless 5 year olds led to a second Pens goal, and the next thing you know the team was holding on for dear life in the final 5 minutes.
This is what the Penguins wanted. They have to turn this series into a war of attrition to have a chance. Syracuse needs to go to their barn and steal home ice back Wednesday and take control back of the series. They have the pieces to do it, even if Johnson can't go. But, man, that's as disorganized as I've ever seen a SyraNo team protecting a lead late in the last 2 years. That was terrifying.
Side note: when his playing days are over Jared Nightingale has a future in broadcasting, having heard him on a few Syracuse games now. That's not a shot on other players who have done it for the affiliate over the past couple of years, but Nightingale's got the chops for it.
Box score from TheAHL.com.
Submitted by pete on May 25, 2013 - 21:15
All good things...
WBS-4
SYR-2
Wilkes-Barre/Scranton Leads the Series 1-0
Cedrick Desjardins allowed 4 goals on 23 shots for the loss.
First Period
WBS Grant, (1) (Nesbitt, Smith), 1:55
SYR Mikkelson, (1) (Taormina, Brown), 16:41
WBS Smith, (5) (Gibbons, Kolarik), 17:12 (PP)
Second Period
SYR Johnson, (8) (Connolly, Barberio), 5:38 (PP)
WBS Minella, (1) , 9:24
WBS Grant, (2) (Nesbitt, Holzapfel), 19:04 (PP)
Third Period
NO SCORING
Brendan Mikkelson was the game's third star.
Syracuse tastes adversity now for the first time in these playoffs by yielding home ice to the Pens. In the process, their top line was largely held off the board and Syracuse looked vulnerable in a close game where the other team's goaltending, on paper, is better. Now the real challenge begins. Game Two is tomorrow night and the Pens will be playing with house money in a game where the Crunch absolutely need to win.
Box score from TheAHL.com.
Submitted by jghoughtaling on May 25, 2013 - 21:03
Already down by two with less than nine minutes remaining, a pair of penalties 20 seconds apart seemed to stifle any potential Syracuse Crunch rally.
But the Crunch's Mike Angelidis, Jean-Philipe Cote and Brendan Mikkelson shut down a Wilkes-Barre/Scranton Penguins power play that had already converted twice, giving Syracuse a glimmer of hope during the final stretch.
"I thought our guys did an unbelievable job of getting into the shooting lanes and blocking shots, I thought it was awesome," said Syracuse coach Rob Zettler. "I was hoping for some momentum off that, it just never really came."
The Wilkes-Barre/Scranton held on during a 6-on-4 in their own end during the closing minutes, topping Syracuse 4-2 in Game 1 of the Eastern Conference Finals at the Onondaga County War Memorial Saturday. The loss snaps a streak of seven straight postseason wins for the Crunch, and 17 straight playoff wins for the Tampa Bay Lightning's American Hockey League affiliate.
Submitted by jghoughtaling on May 24, 2013 - 12:51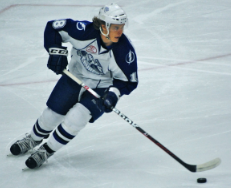 By Jeremy Houghtaling

Vladislav Namestnikov dipped his shoulder, turned the corner on the defenseman and drove right to the net.
The Crunch forward plowed through Springfield Falcons goalie Curtis McElhinney, creating a rebound for Mark Barberio to bury less than a second later to give Syracuse a two-goal lead in the fourth game of the Eastern Conference Semifinals last week. It was Namestnikov's first of two assists on the night, his first professional postseason points.
"Not a lot of players make that play," said Syracuse coach Rob Zettler. "A lot of players go behind the net instead of going to the front of the net. He's got the courage and the speed to make those plays."
For Zettler, it's just one example of the recent development in Namestnikov's game.
"Over the last two or three weeks, his play has really elevated," Zettler said of the 20-year-old. "He's really skating well, he's battling for pucks and going to the hard areas."
Submitted by chad on May 21, 2013 - 15:04
For a 30-goal scorer, Brett Connolly is essentially flying below the radar.
Overshadowed by the success of the Syracuse Crunch's top line, Connolly has quietly continued his nearly one point per game pace in the Calder Cup Playoffs. He has five points in seven postseason games, having already notched 31 goals and 32 assists in 71 games in the regular season.
Submitted by jghoughtaling on May 17, 2013 - 21:48
With a one goal lead and the third period winding down, Matt Taormina found the puck on his stick and looked for an open shot.
After his first attempt was blocked, the Syracuse Crunch defenseman drove toward the net wristed another toward the Springfield Falcons' net. He lost track of it there.
"I shot and I didn't hear anything until the crowd reacted," Taormina said. "I finally knew it actually went in."
The goal put the exclamation point on Syracuse's 5-2 win in Game 4 of the Eastern Conference Semifinals at the Onondaga County War Memorial Friday, as the Crunch swept the Falcons 4-0 to move on to the conference finals.
"They were pressing, they could feel it," Syracuse coach Rob Zettler said of Springfield. "Then Taormina steps up and scores that goal, it's huge. It put a stamp on it for us."
Submitted by pete on May 17, 2013 - 20:12
Syracuse punches their ticket to the Eastern Conference Finals, and they've made it look easy to this point.
SPR-2
SYR-5
Syracuse Wins the Series 4-0
Cedrick Desjardins allowed 2 goals on 30 shots for the victory.
First Period
SYR Wyman, (1) (Devos), 6:04
SYR Barberio, (3) (Namestnikov, Panik), 7:52
Second Period
SPR Craig, (2) (Savard, Jenner), 2:38 (PP)
SYR Wyman, (2) (Brown, Cote), 17:20
Third Period
SPR Joudrey, (1) (Savard, Jenner), 8:35
SYR Taormina, (1) (Connolly), 9:45
SYR Sexton, (2) (Namestnikov), 18:01 (EN)
J.T. Wyman, Mark Barberio, and Matt Taormina were the game's three stars.
You would think with the PTP line held to just 1 point that Springfield would finally get a win in the series, right? Wrong. Syracuse's second and third lines carried the mail and delivered the squad to the next round.
The core of this team that was also in Norfolk for their championship run last season, AKA SyraNo, has won 17 straight playoff games. It's a ridiculous level of success that will be difficult for the league and the media to officially recognize because of the affiliation change. But, it's one of those things that really, in my opinion, gives this group the argument to say they're one of the best in league history. In fact, if they "repeat", I'd say they probably are the best multi-season collection of players in AHL history.
Syracuse's next opponent will probably be top seeded Providence, which holds a 3-1 series lead over Wilkes-Barre/Scranton after a Penguins win tonight. This is where taking care of an opponent and getting the sweep can pay dividends. Every game Wilkes-Barre/Scranton can extend that series depletes Providence's energy and possibly leads to more injuries while Syracuse can conserve theirs and stay healthy. There's the added dimension of Boston still being alive in the playoffs and injury call-ups that comes into play, too. Playoff hockey can be about attrition, and bear in mind Providence went the distance in their first round series against Hershey, too. Advantage Syracuse if Providence can't handle their business in Game Five of their series tomorrow.
Box score from TheAHL.com.