Gudas, Radko
Submitted by pete on December 22, 2012 - 22:52
Syracuse gets Grinched in their last weekend set before Christmas.
WBS-3
SYR-2
Dustin Tokarski allowed 3 goals on 27 shots for the loss as his save percentage continues to atrophy this month. He got the back-to-back start with Riku Helenius gone to Helenius to handle some family matters, but tonight was not the night he turned his recent slide around.
First Period
WBS Thompson, (8) (Gibbons, Holzapfel), 3:57 (PP)
SYR Killorn, (10) (Wyman, Gudas), 9:21
WBS Mormina, (1) , 9:35
Second Period
WBS Smith, (10) (Tangradi, Samuelsson), 10:20
SYR Johnson, (18) (Gudas, Aulie), 18:45
Third Period
NO SCORING
Radko Gudas and Alex Killorn were the game's second and third stars. Don't look now, but Gudas is on a pace for about 30 points, which would be a nice haul for a guy who may also have 200 PIMs when all is said and done this year. Killorn now has goals in his last 6 games and 7 in his last 8. How is he accomplishing this? He's tied for 4th in the AHL in shots on goal. The guy plays a north-south game and he puts pucks on net. As his shot continues to improve, watch out. This guy could very well become a steady goalscorer at the next level, too.
Going 0-1-0-1 in the last 2 games going into the holiday break is obviously a let down for the team. They're still perched atop the Eastern Conference despite a very iffy month of December to date. There's simply got to be more consistency though if they want to stay up in the standings, starting Wednesday in another important early season game against Binghamton and their great goaltending battery.
Box score from TheAHL.com.
Submitted by Anonymous on December 22, 2012 - 22:46
One night after coming back from a three-goal deficit to salvage a point in a shootout loss, the Syracuse Crunch again put themselves in a hole early.
The Crunch allowed the Wilkes-Barre Penguins to score on a power play less than four minutes into the game, and despite briefly tying the game, fell 3-2 at the Onondaga County War Memorial Saturday.
"There's a lot of mental mistakes, something that's uncharacteristic of our team," Syracuse forward Tyler Johnson said. "Sometimes we battled hard, and sometimes we didn't. We just weren't ourselves and we've got to fix that."
Submitted by pete on December 14, 2012 - 21:41
Riku makes the Phantoms' scoring chances disappear.
SYR-3
ADK-0
Riku Helenius stopped all 21 shots he faced for his second shutout of the season. Coming into the season, Helenius had just one shutout in 37 career AHL appearances. Now he has two in his first 11 appearances since re-emerging from Finland.
First Period
NO SCORING
Second Period
SYR Killorn, (7) (Aulie), 4:53
SYR Panik, (12) (Korobov), 9:39 (SH)
Third Period
SYR Gudas, (2) , 13:44
Helenius, Alex Killorn, and Radko Gudas were the game's three stars. Killorn scored his fourth goal in the past five games.
After a five game scoreless streak, Richard Panik and the Panik attack returned to the scoresheet with a shorthanded goal.
This was a rough, brutal game that saw the teams combining for 119 penalty minutes. If you're looking for one of the biggest differences between the AHL and the NHL versions of the Lightning, it's that the Crunch are tougher than the steak you get at Golden Corral.
Syracuse tries to wrap up a solid week tomorrow at home against the Penguins.
Box score from TheAHL.com.
Submitted by pete on December 7, 2012 - 21:13
Crunch squash Hamilton.
HAM-1
SYR-5
Riku Helenius allowed just 1 goal on 20 shots for the victory.
First Period
SYR Palat, (3) (Barberio, Johnson), 0:26
SYR Connolly, (8) (Killorn, Johnson), 7:08 (PP)
SYR Taormina, (3) (Conacher, Brown), 13:42 (PP)
HAM Palushaj, (7) (Beaulieu, Leblanc), 19:42
Second Period
NO SCORING
Third Period
SYR Killorn, (4) (Palat, Barberio), 6:28
SYR Labrie, (4) (Connolly, Korobov), 11:08
Brett Connolly, Ondrej Palat, and Alex Killorn were the three stars of the game.
Don't look now, but Palat has snuck past teammate Dmitri Korobov into the top spot in the league in +/- at +17. Tyler Johnson, who still leads the league in goal scoring, is lingering in a tie for third in the league at +14.Richard Panik and Radko Gudas are also in the top-20 in the league in the statistic.
Syracuse gave some rough treatment to former Lightning farmhand Cedrick Desjardins, running up a 42-20 shot advantage en route to pinning 5 goals on him. When you score 26 seconds into a game and swarm to a 3-0 lead within the first 14 minutes, it's safe to say you were ready to go at puck drop.
Keith Aulie (pictured) was back in the lineup for Syracuse for the first time since late October. The big d-man was +2 with 3 shots on goal.
Syracuse will move on to face Adirondack tomorrow night.
Box score from TheAHL.com.
Submitted by pete on November 18, 2012 - 19:04
3 games in 3 nights. 3 wins. 16 total goals.
SYR-5
HER-3
Dustin Tokarski allowed 3 goals on just 19 shots, but got the win to run his season record to 7-1-0-1.
First Period
SYR Gudas, (1) (Panik), 12:04
HER Taffe, (5) (Kundratek, Stafford), 15:33 (PP)
SYR Taormina, (2) (Connolly, Brown), 17:46
Second Period
HER Syner, (1) (Beaudoin, Schilling), 10:33
SYR Panik, (6) (Korobov, Gudas), 12:21
Third Period
SYR Connolly, (6) (Palat), 8:08
SYR Johnson, (10) (Gudas, Labrie), 8:54
HER Hamill, (4) (Berry, Kane), 15:21
Radko Gudas (pictured), Brett Connolly, and Richard Panik were the game's three stars. Gudas' night was an uncharacteristic offensive outburst of 1 goal and 2 assists to double his overall point total for the season.
The Panik attack has now lasted 7 games, and he now has 5 goals and 9 points in those 7 games. After a slow October where he had 3 points in 7 games, Panik's now run his overall statistics to 6 goals and 12 points in 14 games, as he stalks a point a game.
Syracuse is now 10-2-1-1 through their first 14 games. Their 22 points gives them a 6 point cushion right now in the East Division. They've also managed to tied Springfield for the best record in the Eastern Conference, and their 54 goals are 5 clear of the next best team in the conference, as well.
Syracuse draws Binghamton at home next on Friday night to start another 3 games in 3 nights weekend.
Box score from TheAHL.com.
Submitted by Anonymous on November 14, 2012 - 17:01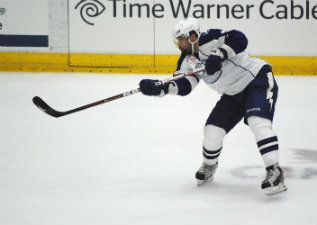 By Jeremy Houghtaling

Growing up, Radko Gudas modeled his game after two players.
The first, his father Leo, represented his country in multiple world championships and won the bronze medal for Czechoslovakia in the 1992 Olympics.
"I learned how he played, and that's how I play," Gudas said. "He was a really hard hitter, he had a good shot – a really good defenseman."
North American hockey fans are more familiar with the second player – longtime NHLer Scott Stevens, a fearsome defenseman with the most penalty minutes of any player enshrined in the Hall of Fame.
Submitted by chad on September 14, 2012 - 12:33
The Tampa Bay Lightning assigned 18 players to the Syracuse Crunch of the AHL ahead of what appears to be an NHL lockout, vice president and general manager Steve Yzerman announced.
Among the players moving to New York are reigning AHL Most Valuable Player Cory Conacher, former No.6 overall pick Brett Connolly, and last year's late-season signing, J.T. Brown. Others include recently signed prospects Vladislav Namestnikov, Danick Gauthier, Dmitry Korobov, and Riku Helenius. The additions of Connolly, Brown, Namestnikov, and Korobov will make the Crunch a stronger team, which is scary considering they were already among the favorites to claim the Calder Cup.
The full list of new Syracuse residents includes forwards Brown, Conacher, Connolly, Gauthier, Alex Hutchings, Tyler Johnson, Alex Killorn, Namestnikov, Ondrej Palat, Richard Panik; defensemen Mark Barberio, Radko Gudas, Korobov, Charles Landry, Dan Milan; and goaltenders Helenius, Dustin Tokarski, and Pat Nagle.
We'll offer some opinions shortly on who could end up in ECHL Florida with the Everblades and who likely stays in Syracuse.
Submitted by pete on June 20, 2012 - 18:01
As uncertain as things have traditionally been for the Lightning between the pipes, the defenseman position may be even more unsettled at this point in the offseason. After cheating father time for much of the 2011-2012 season, age caught up to many of the Lightning's veteran defensemen in 2012-2013. Mattias Ohlund may never play another NHL game after the 35 year old's knee finally gave out after over 900 games of NHL service.
Submitted by pete on June 10, 2012 - 15:51
It's been a day since the Norfolk Admirals hoisted the Calder Cup for the first time. The amazing thing about championships is that they're a shared milestone in the lives of, really, thousands, between the players, coaches, staff, and fans. Those journeys often contain compelling stories that make the triumph worth that journey. For Jon Cooper, it was about closing down his law practice to coach his way from Michigan high school hockey, to the USHL to working with Hockey USA, to a 2 season sprint to glory in the AHL. For Cory Conacher, it was about not being drafted and playing hockey at off-the-beaten path Canisius, dealing with diabetes, and earning an NHL contract in March of an MVP season before posting 4 assists in the championship clinching Calder Cup Finals game.
The stories of the players and the coaches are the ones we'll read about in the coming months and years, and they should be. When the Lightning made their Stanley Cup run in 2003-2004 and were playing the Philadelphia Flyers in the Eastern Conference Finals, John Tortorella refused to fire back at Ken Hithcock's remarks about "Italians from Boston," because Torts rightfully understood, "It's about the athletes." Ultimately, they're the ones who score the goals and make the saves. They sacrifice their bodies and take the stitches and they take the slings and arrows if they lose. Ultimately, it's their moment, and to a lesser extent the moments of their families who supported them in the journey up to those moments. The hockey moms and dads who woke up at 6:00 am to drive their kids to games. Scratching together money for skates and ridiculously expensive composite sticks. The wives and significant others who live with the players and coaches through the disappointments and the frustrations, and live in fear of moments when things can go wrong, like when slap shots can hit a man in the ear at 90 miles an hour, similar to what happened to Scott Jackson.
Less compelling, perhaps, is the story of an organization, but, these are stories can be worth telling, too... especially in this case. We started beta testing Bolt Prospects in 2004-2005, one year after the Lightning's Cup win, in the heart of the NHL lockout. That year was also the first year since the Detroit Vipers of the IHL folded after the 2000-2001 season that the Lightning had a full-time minor league affiliate: the Springfield Falcons. Absent a full-time affiliate, it became clear the Lightning would struggle to maintain their spot on top of the hockey mountain, because split affiliates would not give prime ice time and coaching help to another organization's players. That problem prompted the start of an 8 year process for the Lightning that ended in building what must be considered the sport's preeminent developmental apparatus with the Norfolk Admirals' Calder Cup championship and the Florida Everblades' Kelly Cup Championship.
Submitted by pete on May 6, 2012 - 19:37
Norfolk withstands Connecticut's best shot.
NOR-4
CT-3
Norfolk Leads the Series 2-1
Dustin Tokarski allowed 3 goals on 30 shots for the victory. The stat line is ho hum, but he gave the Admirals exactly what they needed. Under siege for much of the first half of the Second Period, Tokarski kept the game close and allowed the Admirals to get their legs underneath them and get a critical victory.
First Period
CT Wellman, (2) , 5:20 (PP)
NOR Palat, (2) , 8:01 (SH)
CT Deveaux, (2) (Hrivik, Newbury), 17:12
Second Period
NOR Killorn, (3) (Kostka, Picard), 11:31 (PP)
NOR Smith, (3) (Barberio, Conacher), 12:16
NOR Angelidis, (1) (Ouellet, Gudas), 17:40
Third Period
CT Wellman, (3) (Newbury, Erixon), 1:06 (PP)
Ondrej Palat and Tokarski were the game's first and third stars. Color me pleasantly surprised with Palat overall this season. He's better along the wall and defensively than advertised. Heck, he even kills penalties. Between Palat and fellow Eastern European Richard Panik, it's really no contest which of the two has played better so far in the playoffs.
Speaking of those from the Czech-or-Slovakia region, Radko Gudas played a ton in the final frame protecting the one goal lead, and played really well.
Alex Killorn is the truth.
Cory Conacher is... touched? Is that the diplomatic way to put it? Heavyweight Andre Deveaux decided to rough up Conacher after the whistle on a play in the Second Period, and Conacher actually chased after him like he wanted to fight him. Cory, brother, you're strong pound-for-pound, but Deveaux eats meals that weigh more than you do. Stick to whipping his behind on the scoreboard, where it really hurts.
Norfolk won tonight despite being outshot for the first time in these playoffs. They'll move on to Game Four tomorrow night with the chance to really put Connecticut behind the eight ball. Yes, they got "home ice" back tonight, but bear in mind Game Five is really a neutral site game in Bridgeport due to a scheduling conflict. The Whale can't afford to lose Game Four. Sweep the leg, Admirals. Sweep the leg.
In the other Eastern Conference Semifinal, St. John's swept the weekend and now hold a 3-1 series lead over Wilkes-Barre/Scranton. Another reason for Norfolk to get on the gas tomorrow is that they don't want the IceCaps to have a rest advantage heading into any potential Eastern Conference Finals series.
Box score from TheAHL.com.