Conacher, Cory
Submitted by pete on November 17, 2012 - 22:34
Dominant.
ADK-2
SYR-5
Riku Helenius allowed 2 goals on 28 shots for the victory. I'm not sure he ever got staked to a 5 goal lead for low-scoring, defensive-minded JYP last season. He had to be reveling in all the goal support tonight.
First Period
SYR Labrie, (3) (Conacher, Barberio), 13:09
Second Period
SYR Conacher, (8) (Taormina, Connolly), 1:32 (PP)
SYR Palat, (2) (Brown, Killorn), 8:19
SYR Connolly, (5) (Brown), 9:59
SYR Panik, (5) (Barberio, Johnson), 11:53 (PP)
ADK Schenn, (8) (Manning, Gustafsson), 13:27 (PP)
Third Period
ADK Gustafsson, (2) (Roe, Syvret), 10:07
Brett Connolly (pictured), Cory Conacher, and J.T. Brown were the game's three stars. Who knows, they could be playing together in Tampa if the owners ever pull their heads out of the sand and have a season.
Pierre-Cedric Labrie and Richard Panik each came within a helper of Gordie Howe hat tricks tonight. The Panik attack has lasted 6 consecutive games now, with points in every game in November. It's his month, I guess.
As I mentioned the last time Syracuse faced the Phantoms, bear in mind this Adirondack roster is dotted with NHLers like Bourdon, Schenn, Couturier, Rinaldo, etc. Their record doesn't bear it out, but that's a very talented team and Syracuse put them over their knee and spanked them hard tonight.
The Crunch finish their weekend tomorrow in Hershey.
Box score from TheAHL.com.
Submitted by jghoughtaling on November 16, 2012 - 23:49
Seeing that there were only four men on the ice after the first Syracuse Crunch line change, Philip-Michael Devos quickly jumped on the ice to join the play.
The center accepted a pass from Richard Panik and fed it to an open Tyler Johnson, who fired the puck past Hershey Bears goalie Braden Holtby to give the Crunch a one-goal lead less than a minute into the game.
"I looked and there were only four guys on the ice, so I'm going to go," Devos said. "I jumped on, and four seconds later, the puck was in the net."
Submitted by pete on November 16, 2012 - 22:49
Bears no match for Nacho.
HER-1
SYR-6
Dustin Tokarski allowed 1 goal on 21 shots for the victory. Light work. He only faced a whopping 2 shots the entire First Period. 2! Life is good for the former WHL star.
First Period
SYR Johnson, (9) (Devos, Panik), 0:59
SYR Labrie, (1) (Conacher, Cote), 16:46
Second Period
SYR Connolly, (4) (Brown, Taormina), 14:28 (PP)
SYR Barberio, (3) (Oberg, Killorn), 16:00
HER Carman, (2) (Orlov, Stafford), 18:56
SYR Labrie, (2) (Barberio, Conacher), 19:23
Third Period
SYR Gauthier, (1) (Wyman), 16:54
Pierre-Cedric Labrie (pictured), Mark Barberio, and Cory Conacher were the game's three stars. For Nacho, the night produced his first two goals of the season, as both Braden Holtby and Dany Sabourin were forced to bow before the might and the power that is PCL.
Panik attack, y'all. That's a 5 game scoring streak for the pride of Martin, Slovakia.
Congratulations to Danick Gauthier on the first goal of his professional career.
Syracuse pounded Hershey for having the simple audacity to step foot in their rink, outshooting the Bears 40-21 in the contest. The challenge steps up a tier or two tomorrow, as they face the more NHL-talent loaded Adirondack Phantoms. Twelve games into the campaign, Syracuse holds a 2 point lead over the Penguins in the division with 2 games in hand, and their 44 goal are tied for tops in the conference even though they've played one less game than Springfield.
Box score from TheAHL.com.
Submitted by jghoughtaling on November 11, 2012 - 00:49
Pierre-Cedric Labrie recalled looking at the scoreboard with 14 minutes remaining.
With the Syracuse Crunch trailing 3-2, the forward saw 23 listed as his team's shots on goal. Twelve minutes later -- and the Crunch now trailing by three to the Rochester Americans -- the number had only changed by one.
"We can't win the game (like that) if we're losing by two or three," Labrie said. "If you don't shoot, you don't score."
Syracuse's 5-2 loss at the Onondaga County War Memorial Saturday snapped a three-game winning streak overall, and was the third straight loss on home ice.
Submitted by pete on November 2, 2012 - 21:28
Impressive thumping of a team with a lot of NHL talent on it.
SYR-4
ADK-1
Dustin Tokarski (pictured) picked up his 4th win of the season by stopping 23 of the 24 shots he faced. His numbers so far look like a carbon copy of last season's, right down to the .913 save percentage.
First Period
SYR Conacher, (6) , 10:03
ADK Zolnierczyk, (3) (Eddy, Couturier), 17:37
Second Period
SYR Panik, (2) , 5:41
SYR Johnson, (6) (Taormina, Cote), 7:16
Third Period
SYR Taormina, (1) , 19:22 (EN/SH)
Tokarski and Cory Conacher were the game's first and second stars.
Panik attack, y'all! Off the milk carton and onto the scoresheet.
This was a really odd game when you think that Syracuse actually got held down to 18 shots. As I said, there's a lot of NHL talent on Adirondack. On paper, they're one of the real threats in the conference, so to whip them 4-1 in their barn is good for the soul.
Syracuse is off until Wednesday when they'll start a 2 game set against Hamilton.
Box score from TheAHL.com.
Submitted by jghoughtaling on October 27, 2012 - 23:47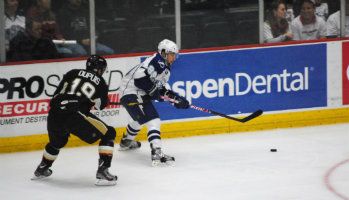 By Jeremy Houghtaling

It took all of 38 seconds for the Syracuse Crunch to find the back of the net Saturday, but it was all downhill from there.
Seeing Brett Connolly and Alex Killorn crashing the net, Cory Conacher threw the puck on goal. After banking off one of the Wilkes-Barre Scranton Penguins defenders' skates, it slid past goalie Jeff Zatkoff.
"That was one good bounce we had all game," Conacher said.
Submitted by pete on October 27, 2012 - 21:29
The Lightning's AHL affiliate suffers its first regulation regular season loss since the day of the Super Bowl.
WBS-4
SYR-1
Dustin Tokarski allowed 3 goals on 32 shots for his first regulation loss of the year. Your serve, Riku.
First Period
SYR Conacher, (5) (Killorn, Connolly), 0:38
WBS Tangradi, (3) (Grant), 14:10
Second Period
WBS Holzapfel, (2) (Gibbons, Reese), 5:35
WBS Bennett, (1) (Smith, Ferriero), 7:57 (PP)
Third Period
WBS Tangradi, (4) , 18:06 (EN)
Cory Conacher was the game's second star.
Coincidentally, the Norfolk Admirals also lost their first game of the season tonight, finally snapping that franchise's regular season win streak. Quite the run for both these players in Syracuse and that franchise down in The Commonwealth.
Syracuse gets Adirondack tomorrow afternoon, presumably with the big Finn Helenius between the pipes.
Box score from TheAHL.com.
Submitted by chad on October 26, 2012 - 23:52
No. 19 Colorado College Tigers 0 @ No. 7 Cornell Big Red 2
D/W Kirill Gotovets, COR: 0-0-0, E, 0 PIM, 2 SOG
Season totals: 1 GP, 0-0-0, E, 0 PIM
Cornell opened their regular season with a shutout win over visiting Colorado College. Senior John Esposito (undrafted) scored both goals for the Big Red. Lightning prospect Kirill Gotovets is looking to build on the eight points he accumulated last season as a sophomore.
No. 3 Miami RedHawks 2 @ No. 7 Michigan Wolverines 4
F Jimmy Mullin, MIA: 0-1-1, E, 0 PIM, 0 SOG
Season totals: 4 GP, 0-2-2, E, 2 PIM
Jimmy Mullin set up teammate Cody Murphy on the power play to give Miami a short-lived 1-0 lead, but the RedHawks gave up two third period goals to lose in Michigan, 4-2. Jets first round defenseman Jacob Trouba had two assists for Michigan. Lightning camper Austin Czarnik had a goal for Miami, his third of the season.
Alaska-Anchorage SeaWolves 1 @ No. 4 North Dakota Fighting Sioux 4
F Brendan O'Donnell, UND: 0-1-1, +1, 2 PIM (tripping), 3 SOG
Season totals: 3 GP, 0-1-1, E, 2 PIM
Brendan O'Donnell (pictured) notched his first point of the season and North Dakota handled the SeaWolves, 4-1. Flames prospect Danny Kristo had three assists for the Sioux.
USA U-18 2 @ No. 2 Minnesota Golden Gophers 2 (exhibition)
G Adam Wilcox, MIN: Did not play
Season totals (pregame): 2 GP, 2-0-0, 1.31 GAA, .913 sv%, 0 SO
Freshman Adam Wilcox got the night off for the Gophers in an exhibition match against the USA Under-18 squad. The Gophers play again on Sunday against Cory Conacher's alma mater, Canisius.
Submitted by pete on October 19, 2012 - 20:52
Tic gets on track.
SYR-3
ALB-2
Dustin Tokarski (pictured) allowed 2 goals on 27 shots for his first victory of the season. That was a very solid rebound performance, especially in the Third Period, after an ugly stat line on opening night. So Tic just raised Riku, and we'll see what Helenius can do tomorrow to answer. It's great to have two really good young goaltenders who are the cusp of making the jump to the bigs pushing each other.
First Period
ALB Hoeffel, (1) (Josefson), 0:58
SYR Johnson, (4) (Palat, Conacher), 7:45 (PP)
ALB Tedenby, (1) (Sestito), 16:44
Second Period
SYR Brown, (1) (Killorn, Namestnikov), 10:44 (PP)
SYR Angelidis, (3) (Barberio, Nightingale), 16:44
Third Period
NO SCORING
Mike Angelidis and Mark Barberio were the game's first and third stars. Tic was robbed.
J.T. Brown scored his first goal as an AHLer to tie the game up in the second stanza.
There's a little rust on this Syracuse team that still needs to be knocked off. The east-west guys are still getting their timing back and the north-south guys, stylistically, are clearly ahead. So, I'd definitely say the Paniks and the Connollys are still feeling things out. It'll come, though. It's good to be 2-0-0-1 knowing these guys aren't close to what they're capable of yet.
For being such a young pup, Vladislav Namestnikov is holding his own. His power play assist from the Hershey game got switched to Cory Conacher shortly after the game, but he got his second helper of the season tonight and looks every bit as feisty as the scouting report says he is, even despite being on the skinny side. It wouldn't shock me, at all, if he had a really good second half once Coach Cooper gets him settled in. There's a slightly built guy wearing #12 for the Crunch who had a similar story last season.
Box score from TheAHL.com.
Submitted by chad on October 15, 2012 - 17:13
The American Hockey League announced today that Syracuse Crunch left wing Cory Conacher was selected the CCM/AHL Player of the Week for the period ending Oct. 14, 2012. Conacher was also named our prospect of the week here at Bolt Prospects. Since the AHL candidates for their award far outnumber the number of prospects in the Lightning organization, we listed the AHL's award first. On pure importance, value, and prestige, ours would be listed first, of course. But we're nice.
#deathtaxesConacher
Conacher picked up where he left off last season when he was named the AHL's Most Valuable Player and Most Outstanding Rookie. During the league's opening weekend, Conacher potted two goals and added three assists. His center, Tyler Johnson, had three goals, and his opposite winger, Ondrej Palat, had three helpers over the weekend.