Connolly, Brett
Submitted by jghoughtaling on December 8, 2012 - 00:25
Initially thought to have sustained a cracked sternum, Brett Connolly found out earlier this week that it was just a contusion.
While the injury made it hurt for him to breathe this week, the Syracuse Crunch forward was determined to play against the Hamilton Bulldogs at the Onondaga County War Memorial Friday.
"Right now, it's just pain tolerance," Connolly said. "It's going to take a lot to keep me out of the lineup."
Connolly played through the pain, registering a pair of points - including a 5-on-3 power play goal seven minutes into the game that stood up as the game-winner - as the Crunch beat the Bulldogs, 5-1.
Submitted by jghoughtaling on November 17, 2012 - 23:55
JT Brown described his team as having a good feeling going into the first intermission Saturday.
Leading 1-0 over the Adirondack Phantoms, it only got better for the Syracuse Crunch, who scored four times in the first 12 minutes of the second period en route to a 5-2 victory -- their second straight -- at the Onondaga County War Memorial Saturday.
"Our team has been playing well the past few games, and that's just the kind of thing we needed," Brown said. "We needed to put together a few good games to get ourselves rolling."
Submitted by jghoughtaling on October 27, 2012 - 23:47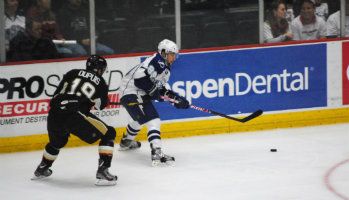 By Jeremy Houghtaling

It took all of 38 seconds for the Syracuse Crunch to find the back of the net Saturday, but it was all downhill from there.
Seeing Brett Connolly and Alex Killorn crashing the net, Cory Conacher threw the puck on goal. After banking off one of the Wilkes-Barre Scranton Penguins defenders' skates, it slid past goalie Jeff Zatkoff.
"That was one good bounce we had all game," Conacher said.
Submitted by mike on October 12, 2012 - 13:02
Despite the large void the NHL lockout created, the hockey season is already long underway. Various amateur and professional leagues throughout North America and Europe have wrapped up their preseasons and are set to begin or are already in the thick of regular season action. 
The Lightning's new AHL affiliate, the Syracuse Crunch, open their 2012-2013 season tonight with an impressive roster that boasts the nucleus of last season's Calder Cup-winning roster and an infusion of talent with varying professional experience: (J.T. Brown, Brett Connolly, Danick Gauthier, Riku Helenius, Dmitry Korobov, Vladislav Namestnikov, Jared Nightingale, Matt Taormina and J.T. Wyman). In the absence of big-league action, watching much of the (currently foreseeable) lifeblood of the Lightning's future skate and bond together is a much-welcomed tonic.
Submitted by chad on February 17, 2012 - 10:09
Should he stay or should he go - part three.
According to today's Tri-City Herald, Lightning General Manager Steve Yzerman is talking with Tri-City Americans General Manager Bob Tory about returning top Lightning prospect Brett Connolly to the Western Hockey League.
The Lightning are still undecided about what to do with their 2010 first round draft pick, the Herald reports.
"I've been in conversation with Steve Yzerman, but they have until [February] 27th to make their decision. We'll see at that point," Tory told the newspaper.
Connolly, who was the subject of the Lightning's "stay or go" debates coming out of training camp and before the World Junior tournament, has averaged around six minutes in ice time with the Lightning this season. Last night against the Sharks he was on the ice for 6:40. He began the year earning more than 10 minutes per game.
Drafted because of his high-end offensive abilities, Connolly has just nine points (four goals) in 43 games with the Lightning. He has been learning the defensive side of the game with the Lightning, but still isn't to a point where coach Guy Boucher appears to trust him in the third period of close games - as reflected by his ice time.
Norfolk Admirals coach Jon Cooper, who no doubt would love to have Connolly in the AHL though he is too young, told Bolt Prospects in training camp that the best level for a prospect's development is the one where he's playing the most. He also said winning plays a promenant role in a player's growth. Connolly can't join the Admirals until Tri-City is eliminated from the playoffs.
With Dominic Moore now out of the Lightning lineup and the Lightning putting up a "Sellers" sign at the trade deadline, conventional thought is Connolly's ice time will go up. It's early, but he remained at the same level Thursday night. If his ice time doesn't go up, one would expect Connolly to be sent back to juniors to play with the Americans deep into the playoffs. Tri-City is currently the second seed in the WHL's Western Conference and is tied with Portland for the third most points in the league. Being sent to Kennewick would allow Connolly to play in the role for which he was drafted - a top-6 forward where he's relied on for clutch scoring. It would also help him maintain his identity as an offensive player and further build his confidence going into next year's Lightning training camp.
From all reports it's been a great learning (and financial) experience for Connolly with the Lightning, but class may be over soon.
Submitted by pete on February 11, 2012 - 21:53
Closing in on being able to declare a successful road trip.
TB-2
BUF-1
Mathieu Garon was dazzling, stopping 26 of 27 for the victory, including several key stops in the final 10 minutes of the contest to preserve the victory and the 2 points.
First Period
NO SCORING
Second Period
TB Downie (9), (Hedman, Stamkos), 7:31
TB Stamkos (37), (Purcell), 13:16
Third Period
BUF Pominville (20), (Vanek, Weber), 7:07
Steven Stamkos and Garon were the game's first and second stars. Through two periods, I thought Stamkos was worthy of sweeping all three stars the way he played. His line's been the best the past two games, after Marty and Vinny upped the ante in the couple of games before that.
They certainly did it the hard way by holding on by a fingernail at the end, but the Lightning are about 1 point away from having a successful road trip with 1 game left to go, and at least giving themselves a chance heading into the second half of February. They're 8 points back of Toronto, who got pounded tonight by Montreal, for 8th in the conference and 9 points back of the Panthers in the division. The Lightning have 4 games in hand on Ottawa, 2 on Toronto, and 3 on Winnipeg, and they've got a lot of head-to-head games against those 3 left on the schedule. The Lightning don't have any games in hand on Washington, but they do have enough head-to-head matchups left to make it interesting on the Caps. Florida has to help out the Lightning by imploding to give Tampa Bay hope of catching them. The Panthers did a lot to stabilize themselves by beating the Caps and then by beating New Jersey today, so that situation looks less rosy than it did a week ago.
Brett Connolly played 7:26 in the game. Congratulations to Brett for graduating from prospect status on Bolt Prospects, as tonight was his 41st NHL game of the season.
J.T. Wyman had 2 penalty minutes in 8:47.
Box score and extended statistics from NHL.com.
Submitted by pete on February 9, 2012 - 21:54
Deserved better.
TB-3
NYR-4 (OT)
Mathieu Garon allowed 4 goals on 31 shots for the overtime loss.
First Period
TB Stamkos (36), (Connolly, Wyman), 18:56
Second Period
NYR Callahan (18), (Del Zotto, Stepan)(PP), 4:33
NYR Stepan (11), (Girardi, Gaborik), 5:27
TB Lecavalier (21), (Purcell, Gilroy), 5:48
TB Gervais (4), (Stamkos, St. Louis)(PP), 12:26
Third Period
NYR Boyle (5), (Hagelin, Stralman), 10:13
Overtime
NYR Richards (17), (Anisimov, Del Zotto), 2:37
The shot totals don't reflect it, but I thought that, on the balance, the Lightning outplayed the Rangers. They had excellent puck movement and puck possession, even on the much maligned power play, and they had a lot of good chances. Unfortunately, the Rangers got kind of a lucky goal to tie the game at 3, and once you get to the 4-on-4 in OT, the smallest mistakes can end up in the back of your net with that much open ice. It speaks well that the Lightning could have such a competitive showing against one of the best teams in the East, but moral victories count for nothing at this time of year.
Brett Connolly had an assist and was +1 with 1 shot and 1 hit in 3:52. His next game will mark his graduation from prospect status on Bolt Prospects, at which point we'll finally be able to move on our Midterm Rankings update.
J.T. Wyman had an assist and was +1 in 6:01.
Box score and extended statistics from NHL.com.
Submitted by pete on February 4, 2012 - 22:31
Party like it's 2004.
FLA-3
TB-6
Mathieu Garon allowed 3 goals on 20 shots for the win.
First Period
TB Thompson (7), (unassisted), 1:37
FLA Fleischmann (17), (Versteeg, Weaver), 3:54
Second Period
TB Lecavalier (20), (unassisted), 1:42
TB St. Louis (14), (Shannon, Lecavalier), 4:22
FLA Samuelsson (6), (Bergenheim), 7:06
TB Stamkos (34), (Downie, Hedman), 12:36
TB St. Louis (15), (Lecavalier, Shannon), 15:08
FLA Bergenheim (9), (Goc, Strachan), 19:14
Third Period
TB St. Louis (16), (Stamkos, Lecavalier)(PP)(EN), 19:39
Martin St. Louis, Vincent Lecavalier, and Victor Hedman were the game's three stars. What a great effort by Vinny and Stammer to help make sure Marty's 900th NHL game is one he'll always remember. Vinny's playmaking tonight was spellbinding and breathtaking, simultaneously, and Stammer made the classy move passing up a chance at his 35th goal into the empty net to make sure Marty got his crack at the hatter.
Vincent Lecavalier (pictured circa the old school) clinched his 12th straight season of at least 20 goals. I don't think people appreciate how difficult it is to achieve that kind of consistency. Know who never had 12 straight 20 goal seasons? Mario Lemieux? Never had 12 straight, just 6. Mark Messier? Never had 12 straight, just 10. Steve Yzerman? Sorry boss, you never did it either. The best Stevie Y did was 8 straight seasons. And, remember, Vinny didn't play in the roaring 80's where the NHL looked like the QMJHL defensively. Vinny played the bulk of these 12 seasons in the heart of the clutch-and-grab era when teams like New Jersey and Dallas and coaches like Jacques Lemaire and Ken Hitchcock were king. I hope, some time 10-15 years or so into the future when Vinny's candidacy for the Hall of Fame falls under consideration, that's something that voters realize. He may not come anywhere near 600 goals, but he should have around 500, he's had amazing consistency, and he played in an era where he routinely got mugged without any repercussions.
The other thing I hope is that Lightning fans and the entirety of the hockey media will start to take a step back from the very simplistic way they've viewed Vinny. Vinny is a very complex player from the standpoint that he isn't a Steve Yzerman or a Steven Stamkos type of guy. He's not Mr. Hockey. He's got other interests and he's a more well-rounded person, which in any other business would be considered a good thing, but in sports that gets you labeled as lazy or disappointing. Except he's not, to me. To have 12 straight 20 goals seasons requires that you maintain the proper level of health to make it happen. That's why even Super Mario couldn't do it. And, to get in that kind of shape every season, even with the various offseason surgeries he's had over the years, requires a level of dedication and hard work that the people who criticize him always fail to acknowledge. I respect Vinny because I think he's a lot like 99% of the Lightning fans out there who are reading this blog: when it's time to work, he works. He lifts, he skates, he does his job as hard and as well as he can. And, when he's off the clock, he's off the clock. I get that, and I'm not pounding sand furious about it just because he doesn't have a Michael Jordan-like fixation on being the absolute best to the point that it makes him a jerk of a human being like Jordan is.
To the contrary, part of what endears Vincent to me is that he is so human, and despite the fact he has had quite a lot of unfair and unrealistic expectations heaped on him and despite the fact he's had multiple chances to get the hell up out of Tampa Bay and take the easy way out by going to finish his career in Montreal or Vancouver or the like, he's never whined through the media and he's made Tampa Bay his home. Why has hockey in Tampa Bay thrived while Atlanta U-Hauled it to Winnipeg? The difference is as clear as the difference between Vincent Lecavalier and Ilya Kovalchuk, neither of whom are Mr. Hockey. But, whereas Kovalchuk was a selfish cancer who couldn't play within a team structure, was only out to run up his stats, and took the first chance he could to get out of a Thrashers jersey, Vincent reluctantly took on the role of franchise cornerstone, even though he's not Mark Messier reincarnate. And, along with Martin St. Louis, he has helped build a franchise not out of brick and mortar, but in flesh and bone with the fans he inspired by scoring 20 or more goals a season for a dozen straight years and by learning how to play within the team concept and by embracing his community, to the tune of donating millions to build the wing of a children's hospital. He's now got 44 points through his first 51 games this season and has had multiple multi-point games during the Lightning's recent streak, and I'm thrilled for him, because it's time for Vinny to start authoring the last few chapters that will, hopefully, get him into the Hall of Fame. Hopefully, he can finally earn the respect and the place in history he's due, because besides Phil Esposito, no one's done more to help keep hockey in Tampa stronger than Vincent Lecavalier and Martin St. Louis. They're the next two bronze statues that go up on the plaza.
And, with all that said, congratulations to Ryan Shannon, for pulling the Willie Wonka golden ticket and getting to play on Marty and Vinny's line tonight when they had one of those magical evenings where everything's working. This'll be a night to reminisce about when the playing days are over.
Victor Hedman's playing the best offensive hockey I've ever seen him play in a Lightning jersey. Maybe we should've whacked him in the head sooner, because he's playing a poised, powerful game offensively now and starting to tap into that mammoth potential. Remember, in his draft year, there were scouts saying Hedman had the potential to be even better than Stamkos. Imagine that.
If the game against Winnipeg was lost on the horrible looking thing alleging to be a power play that the Lightning put out late in the third period, then I'd be remiss in not praising the special teams for having the game winning moment in this game, which belonged to the PK unit. Down a man about a quarter of the way through the third period and protecting a 2 goal lead, that 5-man unit withstood almost a full 2 minute set up in their zone and only allowed 1 shot on goal. At this time of the year, that's the kind of stuff that can be the difference between staying in the hunt and getting your tee times arranged for April. Great stuff by that PK group. Great stuff.
With their win, the Lightning move back to .500 on the season, which, for at least tonight, ends my moratorium on using the "p" word. Sub-.500 teams don't get to talk about playoffs. The Lightning have moved within 8 points of the Panthers for what is, in essence, the final playoff spot in the East. Thank goodness for the weakness of the Southeast Division this year. The Lightning, should they stay hot, could not only sneak into the playoffs, but they could get the 3 seed in the East in the process because the division is so terrible. With 62 possible points still on the schedule, though, the Lightning still need to grab about 3 out of every 4 of those points to give themselves a chance. If Vinny and Marty keep playing like this, and Stammer keeps owning the Richard Trophy race like he has, though, they've got a puncher's chance.
Brett Connolly had 1 hit and 1 blocked shot in 7:10. I think the press boxing was a good thing, as this was his best game in a long while on both sides of the puck. He's now 2 games shy of graduation from prospect status here on Bolt Prospects, too.
J.T. Wyman had 2 shots in 9:23. He made one really nice play to make sure he got the red line and got the puck deep in the third to help the Lightning seal the win.
Box score and extended statistics from NHL.com.
Submitted by chad on February 4, 2012 - 10:19
No. 14 Cornell Big Red 2 @ RPI Red Hawks 2 (OT)
D Kirill Gotovets, COR: 0-0-0, E, 0 PIM, 2 SOG
Season totals: 13 GP, 1-2-3, Even, 8 PIM
Gotovets was back in the lineup after being scratched last weekend.
Harvard Crimson 6 @ Quinnipiac Bobcats 3
F Alex Killorn, HAR: 0-3-3, +2, 0 PIM, 3 SOG
Season totals: 22 GP, 14-15-29, +5, 33 PIMs
F Matthew Peca, QU: 0-2-2, E, 3 SOG
Season totals: 26 GP, 6-14-20, +3, 10 PIM
Peca and Quinnipiac played their first game since January 14 but still came out of the first period with a 3-1 lead. They couldn't hold the lead vs. Alex Killorn (pictured) and Harvard, who scored the game's final five goals. The Lightning prospects combined for five points in the game.
Vermont Catamounts 1 @ No.9 UMass-Lowell Riverhawks 3
F Matt Marshall, UVM: Did not play (injured)
Season totals: 2 GP, 0-0-0, E, 2 PIM
Marshall continues to miss time recovering from surgery. Reports state he's expected back before the end of Vermont's season. Vermont fell to 5-20-1 on the year.
Miami RedHawks 1 @ No.7 Michigan Wolverines 4
F Jimmy Mullin, MIA: 0-0-0, -1, 0 PIM, 0 SOG
Season totals: 28 GP, 8-7-15, +8, 8 PIM
Mullin started the game for the RedHawks, but left the ice after the second period with ice around his right knee. Hopefully it's not serious, though he was having trouble putting weight on his right leg. Miami fell out of the most recent USCHO poll. They were No.20 last week.
Alaska Nanooks 1 @ No. 16 Western Michigan Broncos 2
D Luke Witkowski, UWM: 0-0-0, -1, 0 PIM, 2 SOG
Season totals: 28 GP, 1-5-6, +3, 39 PIM
The Broncos scored twice in the first period and made the lead stand up at home against the Nanooks. WMU fell from No.8 to No.16 in the latest USCHO poll.
Submitted by pete on January 31, 2012 - 22:26
Should I feel outraged about the bad refereeing?
WSH-3
TB 4 (OT)
Mathieu Garon allowed 3 goals on 29 shots for the win.
First Period
WSH Hendricks (2), (Laich), 16:55
TB Purcell (13), (Downie, Stamkos), 18:50
Second Period
TB St. Louis (13), (Pyatt, Clark), 1:05
TB Thompson (6), (Moore, Wyman), 10:59
WSH Perrault (8), (unassisted), 13:07
Third Period
WSH Brouwer (15), (unassisted), 5:53
Overtime
TB Stamkos (33), (St. Louis, Garon), 2:45
Steven Stamkos and Pavel Kubina were the game's first and third stars.
Make no mistake about it, Washington's third goal was a completely blown call. The holding on Matt Gilroy that led to Brouwer's unassisted goal was a joke. I'd be more outraged were it not for the craft Russian leg sweep Vincent Lecavalier put on Roman Hamrlik to spring Marty for the Lightning's second goal. Still, for the refs to blow that call it plain view was pretty shocking.
Brett Connolly was -1 with 1 hit in 5:08.
J.T. Wyman had an assist and 3 shots and 1 hit in 13:00. Played very well coming off the shelf.
Box score and extended statistics from NHL.com.